Calendars & Whatnot
I have a confession. I've been thinking (read: obsessing) about this for some time now. I can't stop thinking about it, and I'm not sure what a good solution is. So, here it all is ... in black & white, the nitty gritty.
I'm trying to figure out a calendar system. :)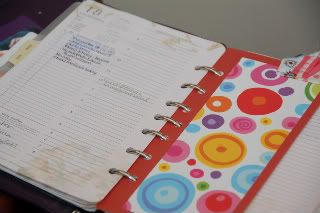 I
love
keeping a calender - writing down appointments, making notes of baby's weight and length on Dr. appointment days, blocking off days for a trip or big event. However, as I've made the switch from working full-time to stay-at-home-mama-(yet-still-working-part-time), I have yet to settle on a working calendar system for me. Now, as we are getting ready to throw in homeschooling and lesson planning into the mix ... auuugghh! I like to be able to carry my calendar with me. I'm forever jotting down things I need to remember in there, but depending on the type and size, I end up needing to carry a purse the size of my minivan to make it fit. This is turning into a much bigger dilemna that I am wanting to deal with so I'm making a short term goal of finding a system and STICKING WITH IT. (We'll see if that was easier said that done).
So, in order to help me think through this, a some bullet points on my organization history, in no particular order:


When I was working full-time, I used a PDA and a 3-ring notebook to keep up with everything. I could sync it at home and office, and printed out monthly calendar to put in my notebook so I had an up-to-date calendar that I could write on when I was in a meeting or needing to make a note or something. (Then I would go back later and up-date on the computer). Worked well because I could leave my big binder behind when I was out-and-about, but PDA's + babies did. not. mix. well for me. N1 managed to break two in row somehow (still not sure how) and I decided that was enough. Plus, and I think this will come as no surprise with the way I love paper and pens, I missed making notes and color coding and writing in my calendar.


I have used this August-to-August for several years and love the handwriting look to it. The size is great, too. A bit smaller than a half-size sheet of paper, fits great in a purse, but not really enough writing room for me.


I tried this calendar out and liked the fact that on the weekly layout there is a block for appointments, home, and meal planning. But, keeping up with school stuff definitely won't work in there, and while I really liked this calendar, I didn't LOVE it. And, while I love and appreciate the spiral bound calendar, I like to be able to add in paper as needed.


The Day-Timer / Franklin-Covey. A possible - gives me the flexibility of being able to add paper; I can choose what inserts - page-a-day, etc. I *think* this Franklin-Covey 2-page per day could work for me - the colors make me so happy. :) There is plenty of room - a place for any appointments, a to-do list, an area I could use for meal planning, and a whole page that could be for school and/or other random notes as needed. My one hesitation is that it is not cheap. But to solve all my organizational needs ... that would be priceless.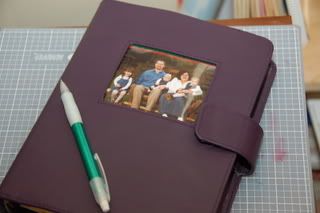 *sigh* I feel so much better getting that all out. Seriously. :) I am starting to feel like I am wasting brain power on this because I am thinking about it so much. LOL I was able to buy the 2-page per day Franklin Covey (not the pretty one I like, but a different pattern) for dirt-cheap the other day at my local Office Depot - the package had been opened and handled and since we are half-way through 2008 they marked it down significantly for me - so I think I will just commit to using that for now and see how it works out. If I can stick with it, then I think I (and my husband who, I think, would like to see me settle on something) can justify the purchase. I've been using
Dawn's file folder system
for the past several months as far as getting a handle on paper and so far so good. Now to put it ALL in practice. :)
Thanks for bearing with Wednesday morning ramblings. I'd love to hear about your organizational / calendar system if you want to share. :)
Updated to add: I've actually gone back to my favorite
August-to-August
calendar and it's working out great. That, combined with my journal, has been a winning combination for some time.