If you have read CJ for the day, go
here
. It's where I'm at. Just down. Just tired. Needing a retreat. Time off for good behavior maybe? Time with my husband and baby and just
BE
. Time away from the phone & cell phone. Time with my Bible and a notebook and sunshine and Diet Coke. Time laughing. Time riding in the car with the sun shining in. Time at a restaurant with low light and yummy food. Time away. Time at home.
I'm not sure I know what I want. :-)
This weekend is the first weekend in over two months that we have absolutely nothing planned. I'm hoping that the weather is nice so that we can do something as a family - maybe involving a picnic lunch. I would like to go to Mule Day. I know Noelle would love it - seeing all the animals and being outside. Another idea is to head to the zoo and walk around. Our zoo isn't that big, but it's got great paths that Noelle could walk on, and there is a huge jungle gym/play area just her size.

Tomorrow night we are going to hear Travis play in a show with this guy. It's at a local church just down the street from us. In my opinion, band guys are way cute . . . especially him. :-)

Bought The Time Traveler's Wife today on Amazon.com - slightly used. It's the May read for my book club and though I usually try to check them out at the library, I decided to buy the book this time. Why? I don't know. I do feel limited about penciling in the margins or highlighting (for obvious reasons!) when it's from the library. Hehe. Plus someone *coughdanacough* has gone on and on and on and on about how great this book is. So, not saying names, but we'll know who's fault it is if it stinketh.

Noelle is cutting her first two molars - one on each side on the bottom. She is still the cutest baby EVER. See here - this proves it: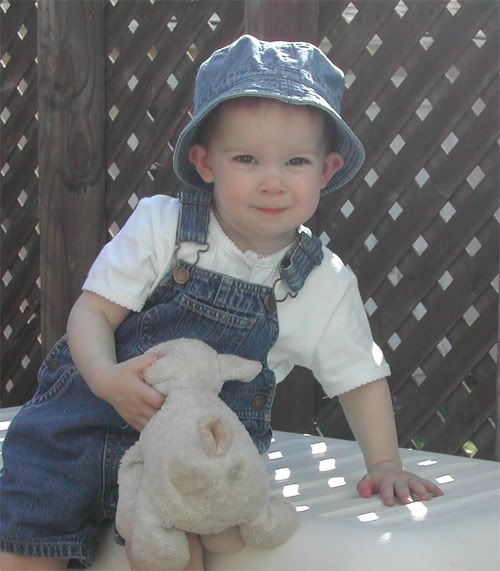 She had a rough day yesterday. Fell out of one of the dining room chairs and landed HARD. Was sitting on the coffee table (don't freak out, it's really low) and slid off the edge - hard, and then our Sam-dog knocked her over outside and she skinned her knee. :-( That was the most minor of the injuries in my opinion, but it did require breaking out the hydrogen peroxide and cleaning it up. She freaked out more over the bandaid than anything else. I guess she's not old enough yet to know that bandaids make everything feel better. :-)

Am plugging away at the Spring Fling Challenge - tackled cleaning out my car yesterday - ewww. Just messy. I don't leave food and stuff in the car, but there was assorted Noelle crumbs (pieces of cheerios, chicken nuggets and such) all over the back seat, and straw wrappers and napkins littering the front. And somehow an OLD blanket that we kept in the trunk had gotten wet, I guess, and when I picked it up, it completely disintegrated in my hands. The car is now completely vacuumed out and looks much better - or as good as a 12 year old Honda will at this point. Today's cleaning project - once Noelle is up from her nap - is to go through my closet and dresser and purge. Need to get in the bedroom and sweep and dust everything as well.

Blessed is the God and Father of our Lord Jesus Christ, the Father of mercies and God of all comfort; who comforts us in all our affliction so that we may be able to comfort those who are in any affliction with the comfort with which we ourselves are comforted by God. For just as the the sufferings of Christ are ours in abundance, so also our comfort is abundant through Christ.


2 Corinthians 1:3-5