Friday Felicities - 11.16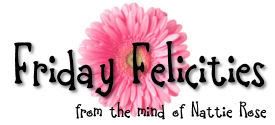 Things that make you happy. From the mind of Nattie Rose.
Sonic Route 44 Diet Cokes

bouncy babies

cold sunny days

a stack of Christmas cards on my desk waiting to be addressed

planning and dreaming

clearing out clutter (I can see the bottom of my closet!) : )
Link up with Friday Felicities over at Becky's!