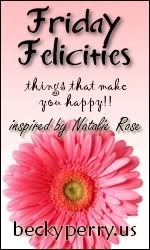 It's been quite some time since I've slowed down long enough to put together a Friday Felicities list. Not that my list of things that makes me happy (or thankful) ever disappears ... I just haven't slowed down long enough to make a note of them. So to rectify that ...
brownies with vanilla ice cream
good talks with a good friend surrounds by our very loud children : )
our ultrasound on Monday! (blue or pink ... what's your vote?)
our fun plans to take Grandma (my mom) out to lunch and to a play for her birthday/Mother's Day
Diet A & W root beer
dill pickles
reading aloud with my girls
time w/ T after the munchkins are in bed at night
reading organization posts over here and pondering plans for a little summertime reorganization (and purging)
and, although I am SOOOOO ready for our summer break, I'm also ready to get started planning for a certain 1st grade year.
Happy Friday one and all. : ) What makes you happy today?