Marriage Meme #2
Found at
Karla's
.
1. Where/How did you meet?
We met at church. Travis was new to Nashville and looking for a church. My Dad introduced us that morning when he found out that Travis was a musician (I was on the music team at church).
2. How long have you known each other?
Seven-ish years.
3. How long after you met did you start dating?
About a year.
4. How long did you date before you were engaged?
6 weeks.
5. How long was your engagement?
10 months
6. How long have you been married?
5 years tomorrow!
7. What is your anniversary?
August 3.
8. How many people came to your wedding reception?
Best guess would be 200-plus.
9. What kind of cake did you serve?
I cannot remember for the life of me. It was pretty though. : )
10. Where was your wedding?
At the Scarrett-Bennett chapel on Vanderbilt University's campus - a stone church that held about 300-350 folks.
11. What did you serve for your meal?
We didn't have a formal meal since we were married at 1 p.m. - heavy-type snacks. But again, I don't really know because I don't think I ate anything.
12. How many people were in your wedding party?
Twelve. Five bridesmaids and groomsmen a piece plus our flower girl and ring bearer.
13. Are you still friends with them all?
Yes. Almost everyone who was in our wedding party, with the exception of the best man (my husband's brother) and one of the groomsmen (who is in seminary) lives here and we still see them regularly.
14. Did your spouse cry during the ceremony?
No, neither of us did.
15. Most special moment of your wedding day?
For me, was when we had a few moments together before pictures. We did all our pictures before the wedding so after I was ready, I went inside the chapel and Travis met me there. We had a few minutes to ourselves before we rejoined our bridal party and took lots of photos.
16. Any funny moments?
My neice, our flower girl, growled the whole way down the aisle. Her way of coping with nerves I guess. : ) But she did make it down the aisle!
17. Any big disasters?
Not a one.
18. Where did you go on your honeymoon?
Yellowstone National Park.
19. How long were you gone?
Eight days.
20. If you were to do your wedding over, what would you change?
Not one thing. : )
21. Greatest strength as a couple?
We work really well together as a team.
22. Greatest challenge as a couple?
Sometimes we don't work well as a team. : ) I occasionally can be, um, stubborn.
23. What did you dance your first dance to?
No dancing - not enough room! However, there was jazz music playing in the background and we entered our reception area to the Star Wars fanfare. : )
24. Describe your wedding dress:
How about a photo: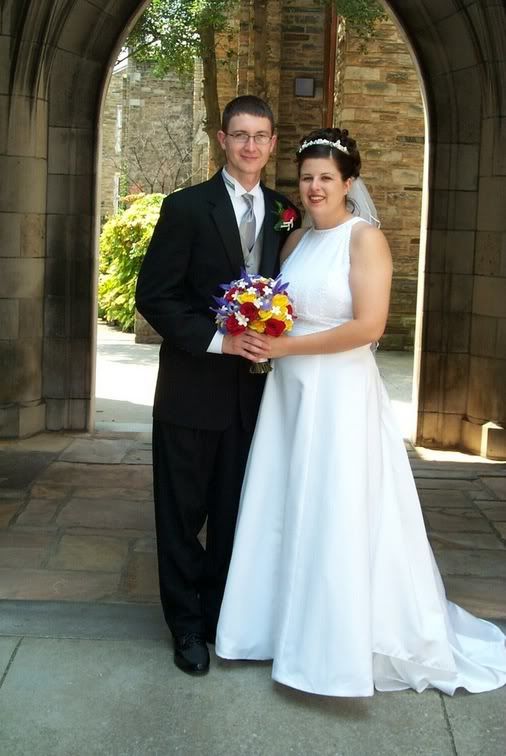 25. What kind of flowers did you have at your wedding?
See photo above. : )
26. Are your wedding bands engraved?
Mine is not - his is. With Genesis 2.18 and the date.