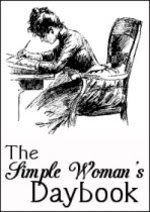 Do visit
Peggy's
to see all the other daybook posts this week!
FOR TODAY

Outside my Window
... a sunny beautiful Labor Day!
I am thinking
... that Labor Day creeps up on me every year. (I think it's because it's one of those floating holidays without a set day, i.e., December 25, February 14, etc.) It's always a fun surprise to remember that we have a long weekend with Travis all of a sudden!
I am thankful for
... our relaxing Sunday yesterday. My folks came over for lunch after church. After they left, the little girls and I took naps; when everyone woke up we took our bikes over to the park and played for a bit. It was a refreshing day after being on the run for most of Saturday. (Not that Saturday wasn't a great day, too, but it wasn't as conducive to relaxing!)
From the kitchen
... massive menu list and our main once-a-month grocery store run last week so I am excited about that. (I may post that later if I get time). Today will probably be sandwiches and leftovers for lunch and the plan is to grill hamburgers tonight. Provided I get out and buy hamburger buns today. There is always something that I leave off the list! :)
I am creating
... joining in on Shimelle's
Learn Something New
class (more info
here
). I did this one last year, so since I'm alumni, I can take it again for free. Who knows what I'll create, but I love the inspiration and prompts that fill my in box for a month. :)
I am going
... to buy hamburger buns today. :) And, if time and husband permits, I'm going to sneak off to Target and do a little perusing and shopping for an upcoming birthday event we have in about a month.
I am wearing
... my jammies! Must. get. dressed. :)
I am reading
... Just finished
The Willoughby's
by Lois Lowry last night. Cute story. I started Harlen Coben's
The Woods
and had to put it down last night only because I couldn't keep my eyes open any more. Also reading Elizabeth Foss's
Real Learning
.
I am hoping
... to get invitations for a baby shower in the mail this week. At the top of my to-do list!
I am hearing
... munchkins playing and chattering.
Around the house
... the big girls are coloring at the kitchen table and E is playing at my feet. T is in his office working on his seminary class homework - he's taking Greek!
One of my favorite things
... putting a new month of pages in my calendar.
A Few Plans For The Rest Of The Week
... I'm working on implementing our fall schedule this week. This is my game plan for using less gas, consolidating errands, and being more frugal with our time and money. (Lofty goals! LOL) The gist is that I try and do any and all errands on Tuesdays. We generally get out on Tuesdays and eat lunch with my Mom and sister and N1 also has dance on Tuesday afternoons. I'm going to try and keep my errands to those afternoons when I'm out and it would be a wasted trip to come back home to just turn around and leave again. Any errands that don't get run at that time will be done on Wednesday evenings while T and N1 are at Awana at church (and eventually N2 starting in January after she turns 3). This means I need to be more organized about what we really need, what T can pick up on his way home from work if it fits, and hopefully have more time at home. I know there will be days where we will get out to do some fun things (like the zoo or the park) but I want those trips out to JUST be for fun, and not tacking on errands every time we walk out the door.
Here is a picture thought I am sharing with you...
Doing school work together ... T is working on Greek and N1 trying her hand at it. :)