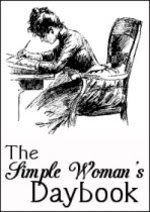 Do visit
Peggy's
to see all the other daybook posts this week!
FOR TODAY

Outside my Window
... dark. I'm getting to this a little late today. :)
I am thinking
... that I need to get some planning done tonight. Seems like life is kicking into high gear this week with more fall activities starting back.
I am thankful for
... our insurance. That's not something that I think about a lot, and that I usually take very much for granted. However, I am about to embark on a long dental journey and I am so thankful that much of it (not all by any means) will be covered thanks to my husband's job and his hard work to provide for us.
From the kitchen
... tonight's dinner was meatloaf, sweet potatoes and ceasar salad. Yum.
I am creating
... a mess on my desk. :) Trying to work on several different projects all at the same time and making a mess in the meantime. Plus Travis cleaned out a desk and now I have more stuff to pitch or relocate. And to think I actually had it pretty clean on Friday.
I am going
... or actually went to the dentist this morning. It wasn't the best of appointments ... wisdom teeth come out in a few weeks, then I have two more appointments for other unpleasant work. *sigh*
I am wearing
... Pink comfy pants (needed comfort clothes at the dentist this morning), a white t-shirt (my 2nd for the day b/c the girls got the first one dirty earlier), and socks and tennis shoes.
I am reading
... Inkheart by Cornelia Funke and 1 Peter (my Bible study starts next week!)
I am hoping
... to make some headway on a routine around here. I want to start a few new routines, especially with the littlest girls, and need to figure out exactly what I am trying to accomplish.
I am hearing
... Travis in his office/studio with my friend
Gina
. They are recording keyboard tracks for a cd our church music team is recording for next spring.
Around the house
... things are relatively picked up, laundry has been put away, and girls are a-bed. I'm about to get off the computer for the night, pop some popcorn, and read.
One of my favorite things
... popcorn, made in our whirly popper thingy with the good butter salt. It's probably my favorite evening snack, hands down. Except when I
need
chocolate. :)
A Few Plans For The Rest Of The Week
... Nothing major, just routines that are falling into place as things start up. Tomorrow is our errand day and N1's dance class in the afternoon. Wednesday is when Awana starts back for N1 and T at church. Thursday and Friday, right now, are free and clear (yea!) as is most of the weekend. I do need to find some time to practice for a special that I am singing at church on Sunday.
Here is a picture thought I am sharing with you...