Simple Things Sunday
Soccer and softball are back in full swing for us. Evening practices on the field and Saturday games are on the schedule until early November. While life is busy for the next 8 weeks, it's really not that long when you think about it. Enjoying the little moments of three sitting together, watching a sister practice, a boy contentedly eating some popcorn before sister take turns playing with him and running him around the field and wearing him out.
Simple things are often the sweetest.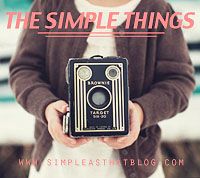 Linking up with Rebecca.