Discipleship & Discipline Webinar with Sally Clarkson and Sarah Mae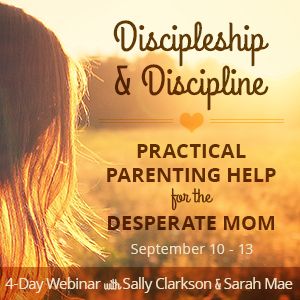 How cool is this!
Sally Clarkson (who I consider to be one of my homeschooling / mama mentors is co-hosting and webinar based off her book Desperate with co-author Sarah Mae. This looks SO good!
Topics that will be covered include:
How to Raise a "Wild One"
How to Instill Excellence in Your Child
How to Have a Quiet Time When There's No Quiet
How to Deal with Over-Emotinal Children
How to Find a Mentor
How to Build a Winning Relationship With Your Child
How to Motivate Your Children to Listen to Your Instruction and Obey Your Training
How to Deal With Your Lies So You Can Parent in Freedom Instead of Fear
How to Get Through the Desperate Days
How to Find and Nurture Friendships with Other Moms
I'm hoping to register and attending this and if you are interested in doing so, here's a link to get started.
The links included are affiliate links and if you use them, I will make a small profit which most likely goes towards books in this household. Thank you!