Simple Things Sunday
We are not a sports watching family (on TV at any rate). We like to play them and have done our part out on the soccer and softball fields, but sitting and watching it on TV rarely holds any appeal for us. However, the World Series is where we break that rule. We are cheering on the Cardinals (although we are most impressed with the Boston Red Sox team) and are enjoying cheering them on in the evenings.
Simple traditions like watching a World Series baseball game together (complete with popcorn or maybe a bowl of ice cream) are often the sweetest.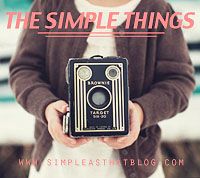 Linking up with Rebecca.