The first week is almost over.

And there is snow coming down big-time here in TN!!!

Preparing for a fun evening watching the opening ceremonies of the Olympics.

Noelle is currently watching Toy Story and Natalie is sleeping.

I haven't been out of the house much this week ... it's been great.

Monday we went for a check up on my incision.

Did I mention that it started bleeding about 2 a.m. on Sunday morning?

That was not cool. Completely freaked me out.

But all is okay ... thank you Lord.

Had Natalie's one week appointment on Tuesday ... she's lost about 1/2 a pound since birth weight.

Dr. says all looks good and we go back next Tuesday for another weight check.

The way she eats, I don't think we'll have a problem. :-)

A friend brought us dinner tonight ... poppyseed chicken and Ceasar salad. Yummmmm!

Oh, and one other big thing...

I've cut out caffiene. (Insert moment of silence).

Natalie is not fond of it.

I'm all about caffiene free stuff now, and of course, lots of water.

I printed Natalie's birth announcements the other day. They were already done except for the birth info.

My dad is going to do a "photo shoot" with baby this weekend for it.

Travis is already asking when I'll be ready to have number 3.

Ummm, let me think on that for a bit.

Noelle is fascinated by the baby.

Whenever Natalie cries, Noelle comes running saying, "Baaaabeeee, what happen'?"

Pretty cute.

I need to do a little scrapbooking this weekend.

I have two mini albums to send to Travis' folks with baby pictures to put together.

All I have to do is glue in the photos ... piece of cake.

Speaking of photos, a few photos to start the weekend:

Noelle decided that Natalie needed Baa for a bit.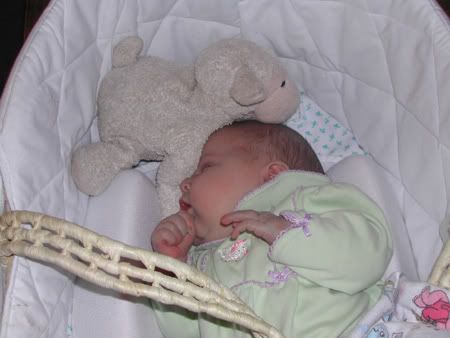 My girls. :-)