Valentine's wishes are popping up everywhere. Normally this is a day that we generally skim over in our household, but not so much thi s year. My husband took my breath away on Sunday. He bought me a new camera ... what I would call a GROWN-UP camera. I casually mentioned while in the hospital with Natalie that I thought I was ready for a real camera - the kind where you change the lens, put on the flash and all that. He conferred with my photographer Dad and on Sunday presented me with a
Nikon D50
!
I'm having fun playing with it and attempted some pictures of the girls for Valentine's Day this morning. Definitely not perfect shots, but they captured them. :-)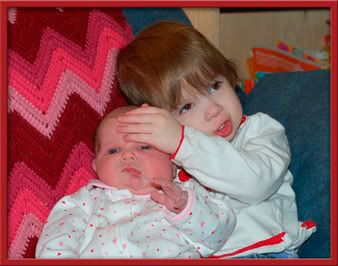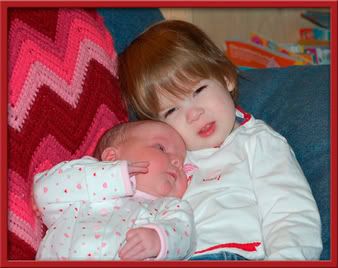 We don't have big romantic plans for this evening. We had talked about doing take-out and just staying in to watch a movie, but instead the whole family is going to go see Curious George. Noelle has been talking about the monkey movie for weeks so I'm sure she'll enjoy herself. That, plus a dinner of McDonald's chicken mcnuggets and she's going to have a good evening.
And, to close, here is a picture my Dad took of Natalie on Sunday. We did a little photo shoot for her birth announcements and I'll try and remember to share a few of the shots over the next several days.