A Bloggy Book Tour ~ A Sister's Test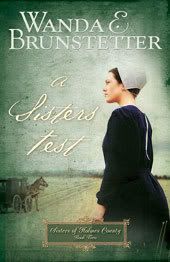 Make sure and scroll down to the bottom for how to win a copy of this book!
Romance is in bloom once again in Holmes County. Cleon and Grace Schrock are expecting their first child together and are happily settling into married life. And Grace's younger sister, Ruth, is falling in love with Martin Gingerich. As their love blooms, the attacks on the Hostettler family begin again threatening their peace and security once again. First, the attacks are just pranks ... a stink bomb in the family barn, the farm gets toilet-papered. Then, they escalate ... laundry on the line is shredded, weed spray in the garden kills all their garden plants. Finally, the unthinkable ... a horse and buggy are run off the road, costing the family dearly.Who's to blame? Footprints lead directly to the Larson homestead and shortly thereafter Ray and Donna Larson make an offer to purchase the Hostettler homestead should they decide to move. But it could also be Luke Frieson, a young man still on rumspringa who hangs around with a rowdy English crowd. Cigarettes at the scene of one attack could point to him. Or they could point to heavy smoker Sheriff Osborn.
Bestselling Amish fiction author Wanda E. Brunstetter is certain to keep her millions of readers up late into the evening to learn whether all the mischief and mayhem will finally come to an end.
Q&A with Wanda Brunstetter, author of A Sister's Test
Q.
A Sister's Test
is the second installment in the Holmes County Series and deals with mysterious attacks that test the faith, perseverance and forgiveness of the characters. What was the inspiration behind this series and what message(s) should readers take away after they've read
A Sister's Test
?
A. After reading a newspaper article about some Amish people who'd been attacked by someone with a grudge against them, I decided to write a series addressing this issue and showing how I believe the Amish would respond to a situation such as this. The message I hope my readers will take away from reading A Sister's Test is the message of forgiveness, forbearance, and trusting in God to bring about something good even in bad situations.
Q. In the past you've mentioned having a serious fascination with the Amish people and it's clear from your writings that you respect their culture. What is it about them and their culture that you admire?
A. I admire their strong faith in God and their commitment to God and family. I also admire the fact that they do not put their emphasis on worldly things and spend more time reflecting on God's creation and the blessings He bestows.
Q. How can we adopt these principles in today's society without giving up the 'modern' way of life and becoming Amish?
A. We can slow down and take time out to spend with the Lord, as well as our family and friends. Many people are so busy "doing" that they miss a lot of the wonderful things God created for our enjoyment. Realizing that "things" aren't nearly as important as "people" will help us keep our focus where it should be.
Q. How do you think you'd respond to the attacks in
A Sister's Secret
if you were Ruth?
A. I would no doubt be very frightened and concerned for the welfare of my family. I would, of course, notify the authorities, and perhaps do a little investigating on my own. Most of all, however, I would trust God for protection and ask Him to bring the answers that are needed to put a stop to the crimes. I would also ask Him for patience and a sense of peace.

Q. The ability, or inability, to have children whatever the reason can be devastating to a woman. Do you have any advice to women struggling in this area of life?
A. Two of my best friends are not able to have children of their own. One friend chose to adopt, the other friend did not. Both women are loving, nurturing, caring people, and both are living fulfilled lives. While motherhood is a fulfilling responsibility, I don't believe being a mother is the only way a woman can be fulfilled. There are many other things we can do in this life that bring fulfillment, and if we seek God's will and ask Him how we can best serve Him, He will fulfill our needs.

Q. Thinking ahead to the big reveal of the attacker in Book Three, would you be able to forgive this person if you were a member of the Hostettler family?
A. True healing can only occur if we are willing to let go of our pain and forgive those who have wronged us. Only in God's strength are we able to find the kind of forgiveness necessary in situations like the Hostettlers went through. I would hope I would say, just as Christ said when He was crucified, "Father, forgive them, for they know not what they do."

Q. What was your favorite part of writing and planning this series?
A. My favorite part of planning this series was being able to visit Holmes County and get to know several Amish families who live there.


Q. What books are currently on your bookshelf?
A. Fiction: Fair Game by Carol Cox; Nonfiction: Lord, I need Your blessing by Anita Corrine Donihue, and Self Talk, Soul Talk by Jennifer Rothschild. All three are excellent books!
Q. What inspires you as a writer? Is it a particular location? A particular ritual?
A. Anytime I'm visiting my Amish friends, I'm inspired to write about the Amish. I also have many Amish things in several rooms in my house, and just looking at them inspires me to write my Amish stories.

Q. You now have over two-million books in print. Do you have any advice for beginning or aspiring novelists?
A.Keep writing and perfecting your craft, and never, ever give up. God's timing is always best.
Q. We're eagerly anticipating Book Three…are you in the process of writing it? When will it be available?
A. Book 3, A Sister's Hope, will be published in July 2008.

About the Author
Fascinated by the Amish people during the years of visiting her husband's family in Pennsylvania,
Wanda E. Brunstetter
combined her interest with her writing and now has eleven novels about the Amish in print, along with numerous other stories and ministry booklets. She has also written an Amish cookbook, an Amish devotional and some Amish children's books. She lives in Washington State, where her husband is a pastor, but takes every opportunity to visit Amish settlements throughout the States.
To Win:
If you are interested in winning a copy of this book, leave a comment on this post. Comments will close next Tuesday, March 4, and one of my able assistants will draw for a winner. Good luck!