1) What state were you born in?
O-K-L-A-H-O-M-A, Oklahoma, OK, yeah! :-)
2) What state do you currently live in?
Tennessee
3) How many states have you been in? (and yes, driving through counts!)
25
4) If you had your choice regardless of cost, which of the 50 states would you choose to live in?
Hmmmm, I don't know. I love where I am now, but I think I would enjoy any state but Florida/Georgia/Mississippi - those in the deep south. I hate being hot.
5) Which of the 50 states would you rather die than live in?
See question 4. :-)
We had such a relaxing weekend. On Friday night we saw Travis play in his show. The lead guy was VERY good. And the bass player was way cute. Really. I'm not biased. :-)
Here's a picture of the whole group...
And one of the handsome bass player...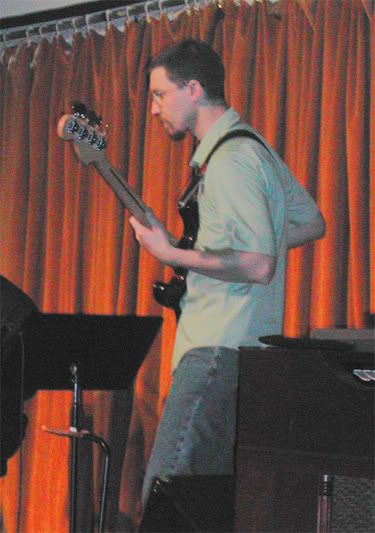 Noelle did fabulous at the concert - ran around during the opening act and then sat on my lap almost all of her Daddy's set. She was pooped, too. We got out of there about 10 p.m. - Travis went out to dinner with some friends and I took N. home for bed.
As for Saturday, we didn't end up going to Mule Day or the zoo - it was too cold outside on Saturday, Noelle's nose with icky and Travis was working on a sore throat. But we had fun family time. A trip to buy food for the dogs, a trip to Lowe's where I bought seeds for my first-ever garden!!, a huge nap on Saturday afternoon, and then Travis grilled out and we watched a movie. On Sunday, we had church and then lunch at Las Palmas (local Mexican) with my family, and then were outside almost the rest of the day! We took the dogs to a large enclosed dog run a couple miles away. We had never taken them there before and they had a BLAST! It was an area probably 3 times the size of our backyard and there were 20-25 dogs in there running around and playing without their leashes on. Our two went in and after running for a few minutes, we to the large wading pool full of water and laid down in it. We were cracking up at them. Then, they ran some more and laid in the water some more and had so much fun - and were exhausted when we brought them back home. Travis then took me and Noelle for a drive - one of my favorite things ever - sun shining in the car, cold drink, baby snoozing in the back, etc. When we got back to the house we all played outside while Travis did some yard work. We were pooped by the end of the day and Noelle's little cheeks were flushed from the sun by bedtime. :-) Good stuff.
She has her 18 month old check-up this afternoon. Her nose has been pretty runny & icky the last few days so I'm going to ask them about that while we're there. We've almost gone all winter without a major cold or bug!