We had a wonderful Easter weekend. Busy, of course. After a wonderful worship service, we hosted my family for Easter lunch and had fun and lots o' food. After lunch, N1 & Cousin Bubby had an egg hunt in the front yard:
N1 figured out there were goodies to be found inside the eggs and would stop and open each one as she found it, slowing her down considerably. :-)
This weekend, Travis also pulled his bike out of the garage and went on several rides. He also pulled out N1's carrier and hooked her up for a turn around the block. There were many tears when Daddy said the ride was over for the day, but we started out smiling and with Baa securely fastened in his side pocket.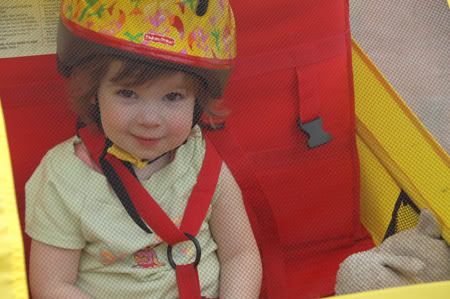 I wish I had a picture that my Dad took on Sunday afternoon. Travis hooked the carrier up and took N1 and Cousin Bubby for a ride in the carrier together. You would have thought from Bubby's expression and squealing that it was the greatest event that had ever happened in his short life. It was hysterical ... Uncle Travis won major points with Bubby that afternoon. :-)
And just for fun...
Cheri ... she is loving on that doll you sent her.