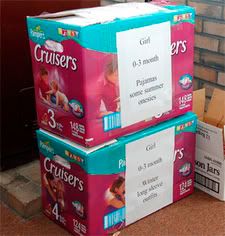 Packed up all the littlest's 0-3 month clothes. She's getting so big! I tried weighing her on Sunday morning and my best try had her around 15 lbs.! We'll have to see what the dr. confirms at our appointment on Wednesday.
Funny quote from our weekend with the youth group:
To set it up, I asked the youth boys to please clean out the freezer at the church and empty it. I was heading to Sam's for 2 20 lb. bags of ice and they would need a home when I returned. I told them to pitch everything, except for the bag of bre@st milk I had in there. Overhead from one of the 17 year olds:
"I'm not going to even ask how she got that into a bag."
I about died laughing. :-) And I almost turned around to explain, but discretion won out and I left them to the freezer as I chuckled all the way to Sam's. :-)