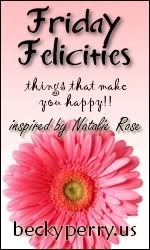 Things that are making me happy this week:
having a big decision made (regarding N1's schooling for next fall)
diet A&W root beer
my Everyday Food magazine and the recipe we made last night. Crazy good!
some great GREAT news that T got from work yesterday. He works so hard and I'm glad to see him appreciated by his employers.
SUNSHINE!!!
that I've made it to Deuteronomy in my goal to read through the Bible this year. Still pressing on with my plan (although I will be honest and say that I'm so glad to be out of Leviticus and Numbers!)
a trip to the library today - new books! - in the sunshine!
Hope everyone has a wonderful weekend. : )