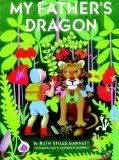 A few weeks ago
Lauren
mentioned a chapter book series she was reading with her Best Girl called
My Father's Dragon
. The fact that they were the first chapter books that she had read with her son, and now her daughter, intrigued me. I am always on the look-out for smallish chapter books for N1 and so I immediately reserved
book one
at the local library.
This book was WONDERFUL! N1 and I sat down to read it yesterday and couldn't put it down. At the end of every chapter, she said, "Just one more!" and since the chapters were 3-4 pages, I obliged. The story is about an adventure that the storyteller's father had - the main character never has a name, but is referred to as "my father" the whole time. He sets off on an adventure to Wild Island to rescue a baby dragon. With only his knapsack full of supplies, he manages to get by many and varied wild animals in his quest. First published in 1946, this book has stood the test of time and gets two thumbs up from our house. : )
If you have any little boys in your home (or even girls that love a good adventure story!) you need to check these books out! This is one that we are going to add to our home library, and I'm making a note to buy our boy cousin a set of these for his birthday this year. Thanks for mentioning these,
Lauren
!
This post is linked up to Five Minutes for Books "
I Read It
" monthly carnival, highlighting the books we have picked up on others' recommendations.