1. Thanks for all the congratulations for our coming addition. We are super excited ... the girls can hardly contain themselves! I can already say that it is going to be a much different go-round this time with a 6 1/2 year old in the house. She has lots and lots of questions. (None of the major ones, yet, thankfully!)

2. The girls have been throwing out plenty of name suggestions as well. N1's top pick right now? Peter Pan. Um, no. :) She told a friend at church her idea, and this other mother (who really was old enough to know better) said, "You could shorten that to P.P.!" I about died trying not to laugh. N1 looked at her very seriously and said, "We can't call him that - it's a bathroom word!" Ha!

3. Yes, we will be finding out what the baby is. N1 is rooting for a boy. She is the queen of fairness and justice in our home, and she really wants this baby to be a boy for her Daddy. (So sweet). N2 and BBoo are rooting for a girl. They are going through a insanely huge mommy/baby play phase. Sometimes they use dolls, sometimes one of them is the mommy and the other is the baby. This baby doesn't stand a chance.

4. I'm feeling fairly good right now ... there are moments of extreme exhaustion and moments of food funkiness, but I can't complain at all.
5. We woke up to snow AGAIN this morning. This time is was very wet and didn't stick at all, but still. We have had a crazy amount for us this winter. The weather says that it's supposed to get up to 60 by this weekend, and as N1 has her first soccer game on Saturday, I'm really hoping it does.
6. I can't remember if I mentioned it here on the blog, but we have been debating (again) whether or not to put N1 into a two-day a week school tutorial for next year. Throwing a baby in the mix added a little pressure to that decision. I have thoroughly enjoyed having her home all of this year, and after talking with Travis, I didn't have any qualms about taking on 1st grade. However, with a new baby, we also could see the benifit of giving me a few days a week grace from school. The long and the short of it, we've decided to go ahead and apply for the school and just see what comes of it. We have no idea what the waiting list for 1st graders is, but we're going to just head this direction and see what God makes of it. :) Truthfully, I'm just glad a decision is made and we're heading in a direction!

7. I was at a homeschool seminar on Saturday and was taking with another Mom. We were talking about our extremely active children that we each have and I mentioned my theory that our BBoo has the energy of two people trapped inside her little body. She mentioned that her son is the same way and they call him "concentrate." I loved that and stole the title for a scrapbook page about our BBoo. Fits her perfectly!
8. This week (and next) we are all about spring and gardening for our school work. I pre-ordered this book months ago on Amazon and am still waiting for my copy (backordered!). I can't wait to dive into it with N1.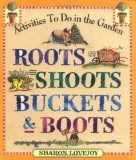 9. This book is another gem we stumbled upon at the library: How Does a Seed Grow. The whole book is a narrative of a little garden experiment you can do with your child. They walk you through planting some beans into egg shells and then watching them over the course of several days and see how they sprout. Very, very cool.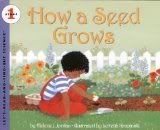 10. I leave you with a recipe I made today ...
Coffee Toffee Bars
. My two-cent tip: sprinkle sweetened coconut over the top before baking. In my opinion, it makes them taste like an Almond Joy candy bar and that's never a bad thing. : )