Random things that probably don't deserve a post on their own but that I want to remember or share:
One Little Word
Ali Edwards is kicking off
One Little Word for 2011
. This is a way of picking a theme for your year to ponder over, grown in, think on, etc., and the years that I have participated have been great growing seasons in whatever area I set aside. In conjunction with this is a
new class
that she has developed and I was gifted this by my sister for Christmas. It's a series of 12 monthly prompts and creative projects to remind us of our word that we chose and to give yourself pause to see where you are with it and how it's being reflected in your life. My word that I have chosen for 2011 is
serve
. More on this later...
Gratitude Journal
Monika at I Love it All has
put together
several
posts
walking you through the project setting up a gratitude journal for 2011. The girls and I are going to do something similar for school starting in January and, while our journals aren't as scrappy as Monika's (or as cute!), they will have the handwriting of my oldest two girls (ages 7 and almost 5) and myself and that will make them memorable. I have been blessed by Ann Voskamp's recording of journaling the endless gifts that God has bestowed upon her and that was the impetus that brought about starting these thankful journals with the girls. Ann has also turned her thoughts on this into a
book
that I can't wait to read. And this post of her's on
The Year of Here
. Goes hand and hand with what I have been thinking with my
serve
theme. And not a little bit convicting.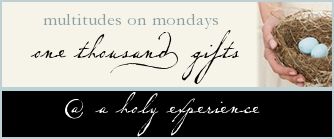 Nature Study
The girls and I are going to attempt to add an afternoon of nature study into our week as the weather permits. I am going to be using Harmony Art Mom's
Winter Series Outdoor Hour Challenges Ebook
. As part of this study, we also have 3 different artists to study - one per month (Caspar David Friedrich, Gilbert Stuart, and Claude Monet), and 3 different composers to study (Vivaldi, Waldteufel, and Dvorak). I am not a "nature girl" as Noelle likes to call herself, preferring instead the indoors (air conditioning or fire depending on the season), a book, and diet coke, so I am sure I will appreciate all the help.
Project Life for 2011
I know I said I wasn't going to do at 365 photo-a-day project this year. But then, I started looking back through my 2010 album and I'm back in again. It is so wonderful to have these little snippets of our life. I wish I had been better about journaling closer to the time the picture was taken, but I've still got these precious memories recorded. You can click the button below for more information about Project Life and the great resources that Becky offers (both her products and just general blog inspiration).
2010 has been a good year for me creatively and I'm looking forward to new projects in 2011!
I'm sure I'll think of something else once I hit post. But, it's a start. : )