Book Review ::: The Remarkable Ronald Reagan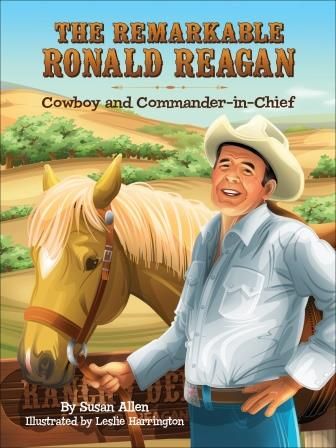 I can't tell you the last time that accepted an offer for a book to review. Let's just say ... it's been awhile. However, I was recently offered the chance to read and review
The Remarkable Ronald Reagan: Cowboy and Commander in Chief
by Susan Allen and I jumped at the chance.
Why? What makes this book different than others that I have been offered? Ronald Reagan is the President that I most remember from my childhood. Sworn in in 1981 (when I was a mere child in the 4th grade) I grew up during his presidency. I remember the faux classroom election where I voted for him and the celebration when "my guy" won. I remember the explosion of the space shuttle
Challenger
and his response to the tragedy. I remember his cry to Gorbachev to "teach down that wall!" And, above all, I have such an impression of his humble nature and His faith in God.
I want my children to know this President of whom I was such an admirer. Susan Allen (wife of a former governor of Virginia) has captured his character and gentleness in this book that gives a great overview of his long and admirable life. She highlights his childhood and how his parents gave him a reverence for God. She talks about the many hobbies and pursuits that he tried as a teen and young adult - while not always the star of his team or group, he always tried his best. How he served his country during World War 2 where asked without hesitation or complaint.
Did you know that Reagan ran for President in the late 60's and lost to Richard Nixon? I didn't! (Sad to admit that as a former history major, but true!) He lost his first bid for the presidency in 1968, but that loss didn't deter him from running again in 1980 and our country is so much the better for it.
I've already caught some of my munchkins perusing this book and I'll look forward to being able to pull it off the shelf a little this year as part of our studies for Cycle 2 in Classical Conversations. This book is a great overview of his life and accomplishments and one we will enjoy for many years.
Thank you to TLC Book Tours for shooting a copy my way in exchange for my honest thoughts. I have received no compensation for this post other than a copy of the book for my review.