I'm under the pile. Yesterday Travis and I both started coming down the cold that has been circulating our family for a week or two now. Stopped up, sore throat and I was running a little fever last night (and today as well). Travis leaves town tomorrow for 5 days for a business trip so I figure that Noelle and I will coccoon ourselves at home for a few days and rest. I think I'm going to try and go to the grocery store tomorrow, too, after we drop him off at the airport . . . it will give Noelle and me something to do to take our mind off of Daddy leaving and then the cupboards will be stocked full so we can stay in.

My Grandad isn't doing so great. He's in a nursing home in Oklahoma and getting discouraged and down about his health. It was easier to watch my Grandma decline with her Alzheimer's - she didn't know she was sick. It's different because Grandad has all his facilties and knows that things are changing. My Mom is trying to take care of him and help with decisions from 700 miles away and I know that's becoming a strain on her and our family.

Noelle has mastered the art of climbing on to ALL our furniture. :-) She can now scale both couches and both big comfy chairs, as well as the computer chair (oh no!), the dining room chairs (uh-oh!), and, worst of all, the chair at my scrapbook table (double oh-no!) We're trying to nip this climbing thing early. I don't mind if she wants to sit in the chair at the dining table, but standing in the chair and then climbing up on to the table itself, I'm not into that so much. And for now, I'm trying to teach her that my scrapbook table is completely off-limits.

She has also learned what a horse and a sheep and a lion say. Her "roar" is so sweet - like a whisper. She can also say "ready" now when I ask if she's ready to go, or eat or whatever. Love. Her.

I have several card making projects in the work - and I'll get paid for some of them! :-) Yeah! Here's a few pictures of them (some are works in progress). This one is a baby shower invitation that I did for my friend Laura. This one isn't finished yet, and the purple is going to be pink on the actual bridal shower invitation, but you can get the idea of what it will look like. (The purple paper looks bad in the scan b/c it's just plain typing paper - it will be pink cardstock on chocolate brown.) :-) I have also been asked to make Change of Address cards and the wedding program for the girl who is having the wedding shower, and I've got another job that will hopefully work out doing wedding announcements for another girl from my church. God has been good to provide these little jobs for me to fund my creative outlet. I don't really make any money at this - just enough to pay for my supplies and restock my scrapbooking stuff when needed.

And, oh yeah, my nephew's birth announcement is finally getting done.

I want to buy some stamps from Cheryl when I can afford to. I have the new Stampin' Up catalog and there are several in there that I'm drooling over.

I've been reading through the New Testament with some of the W@H girls. Today I start Luke.

You must see this precious adorable yummy new baby boy my friend Amy had. *sigh* So. Cute.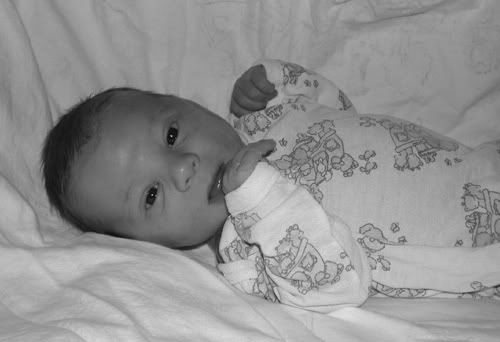 I don't think I ever posted anything really about meeting the W@H administrators (or at least 8 of the 12 of them) this past weekend. I was able to hook up with them for dinner on Saturday night and we had such a fun time. It was so neat to spend time with these women in person and realize that they are just as great off-line as they are on and just the same. Travis and Noelle went with me to the restaurant so that they could meet them and vice versa. Click the picture below and it will take you to a few more: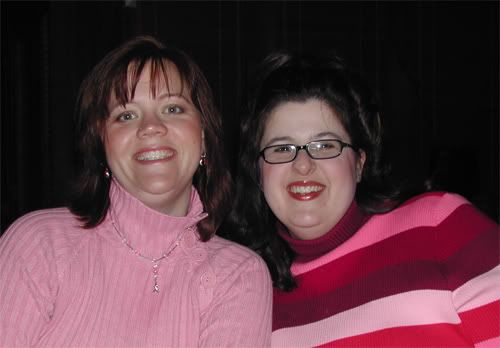 I have to admit, I was pretty nervous doing something like this . . . not necessarily meeting folks that I've only known online, but meeting folks in general. It's so SAFE just hanging out with the same church folks I see week in and week out and it's easy to get too comfortable and not push myself to make new relationship. It was a good stretching time for me.

Another perk was that Skipper and Say-ruh are just plain fun and they were probably the two that I knew the least. :-) And Say-ruh coveted my camera . . . what's up with that?!

I've been pondering lots of things lately . . . most are still too muddled in my brain to communicate effectively. Things like Biblical submission. Boundaries in church leadership. Disappointment in God. Inquiring of the Lord. Just a few things...

Got this from Zoe . . .



You are 'Gregg shorthand'. Originally designed to
enable people to write faster, it is also very
useful for writing things which one does not
want other people to read, inasmuch as almost
no one knows shorthand any more.

You know how important it is to do things
efficiently and on time. You also value your
privacy, and (unlike some people) you do not
pretend to be friends with just everyone; that
would be ridiculous. When you do make friends,
you take them seriously, and faithfully keep
what they confide in you to yourself.
Unfortunately, the work which you do (which is
very important, of course) sometimes keeps you
away from social activities, and you are often
lonely. Your problem is that Gregg shorthand
has been obsolete for a long time.


What obsolete skill are you?
brought to you by Quizilla