A few photos from our Valentine's photo shoot.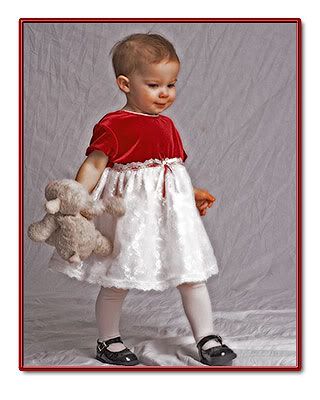 You can see more pictures of the boy by clicking his picture.
I'm tired today. The dogs have recently started being very "bark-y" lately and that really grates on my nerves. I don't know if it's the warmer weather or what. They are outside when they are barking, but it sets off the neighbor's two big dogs and drives me batty. Noelle and I walked around the backyard some before I put her down for a nap and she was loving being outside. It's still a little cool so when it warms up I really need to get her to the park and let her explore. Her words are increasing like crazy. Yesterday she learned that the cow say "mooooo" and the duck says "kack, kack." Her other big word is "cool." Everything is "cool." Methinks that Mama uses that word too much. :-) I'm trying to teach her that when she is ready to get out of bed to call for me. Right now, she throws her "Baa's" out of the bed and yells for them . . . like they are going to help her get up! :-)
Got a Valentine's day card in the mail from
Aleta
- so fun to get mail and totally brightened my day. Love, love snail mail.
Have all sorts of invitations I need to be working on . . . will start some of them when I finish this post. Baby shower invitations that need to go in the mail this weekend, then next up are some wedding shower invites. (I'm not helping with that shower - that one's a real "I'm going to get paid" type job). Last night, I also got a call about doing some wedding announcements/reception invitations - the couple is having a private beach wedding and a big reception later. That order could also include not only me addressing the invitations, but also some bachelorette invitations and possibly the wedding invitations for those actually invited to the wedding. All these invitations basically fund my scrapbook habit which works out well for me. :-)
Guess who I get to meet this weekend? Some crazy ladies are having retreat of sorts in my neck of the woods! I get to meet
Dana
,
Becky
,
Heather
&
Nattie
(Those are the ones coming that I know of!) Very excited to be spending a few hours with these ladies!