Honor Your Husband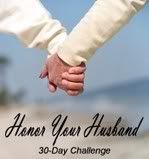 I've been trying to find time since Monday to do a little post about the
Honor Your Husband
commitment (hosted by Christine at
Fruit in Season
) that I'm taking part in. My reasons (besides the fact that this should be a priority most of the time!) ... we're celebrating our 5th anniversary this August and I really want the commitment to spend the weeks leading up to it thinking about our marriage.
I have several ideas of areas I want to think about:
where have I seen myself grow
where do I see change needed (I'm guessing this list will be longer) :-)
what are things that I am doing for Travis that show honor and respect
what are things that I could/should be doing that I'm not
And the list could go on.
To quote Christine:
We are all coming to this challenge from different places in our
marriages. Some of you have been in a rough spot lately and may find it hard to
change habits. Some of your marriages are on a mountaintop and you will find
choosing to honor your husband easy. Some of you are new to marriage and some of you have been married decades. Regardless of our circumstances, the best way to work this challenge is to begin your day in prayer for your husband and your
marriage.
Some of the challenges I'm setting for myself for this first week are/have been to:
greet him when he gets home from work with a small and not a frown or tired face
pick a book on marriage to read over the next 3-4 weeks
think before I speak
think before I speak (so important it needs to be on there twice!) :-)
work at doing a good job with our budget and what I have to work with for groceries and other needs (more about this later)
Visit Christine at Fruit in Season if you are interested in participating!