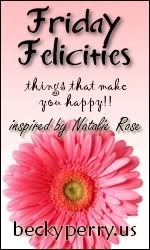 my fat free vanilla creamer
Betsy Tacy books
Lost : )
snow days
watching Brady Bunch with the girls
taking pictures
planning ahead
dark chocolate
Diet Rite
my cozy jammies
family
For more Felicities, see Becky's blog!

Friday Felicities is a meme created by Nattie – now a resident of heaven. This meme is all about creating a list of things that make you happy and Nattie knew that when you concentrate on your blessings your sorrows are not as overwhelming.