It's been a while since I've participated in a Read-Aloud Thursday. I have good intentions, but apparently when I said I was going to take a break from book blogging, I lost all motivation to write about anything book related. : ) We haven't quit reading around here; in fact this week, we have been reading lots of books about Groundhogs and are slowly working our way through a couple chapter books.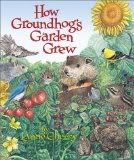 We have loved
How Groundhog's Garden Grew
. I found this book on a recommendation from
Dawn's blog
and ordered it. It tells the story of Groundhog went around and nibbled from the other animals' gardens until Squirrel takes him aside and shows him how to grow his own garden. A great little story about how hard work (and help from a friend) goes into making a garden and all the great food that comes from it. And Groundhog shares his bounty with all his friends at the end of the story!
Another great groundhog story is
Gretchen Groundhog, It's Your Day!
This is all about young Gretchen, a young groundhog, and it is her turn to go out and tell everyone if winter is sticking around. However, Gretchen is scared to go out before all the newspaper reports and the town. A neat little story about being brave even when something is new and a little bit scary.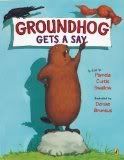 Lastly,
Groundhog Gets a Say
is a book that is packed full of groundhog facts cleverly disguised in a cute little story where the groundhog is being interviewed about why he deserves his own day of the year. We took a little homeschool field trip last week and learned about groundhogs (and other hibernating winter animals) and they really are fascinating.
Along with these books, we've been putting together a
groundhog lapbook
from Homeschool Share. We've learned a lot of interesting facts about these little rodents - did you know that they are one of many rodents that HAVE to gnaw on things to keep their teeth filed down? The groundhog's teeth never stop growing and if they don't continually eat then their front incisors will just keep growing and growing and eventually grow into their skull and kill them. (Eww. But N1 thought that was very interesting.) : )
Next week, we're off to the Olympics ... I haven't found many good books for N1's age about the Olympics, but I'm imagining will do lots of talking about them, watching the events, and maybe trying to act out some of them at home. (That should be amusing.) FYI - Homeschool Share has a
free Olympic lapbook
that looks really neat. We're going to be using it in conjunction with
Amanda Bennett's unit study
over the next three weeks. These are actually 4 week studies, but I know some of it will be over N1's head
and
in three weeks it will March and time for spring-ish books and studies! Yay!
For more Read Aloud Thursday, visit
Hope is the Word
.