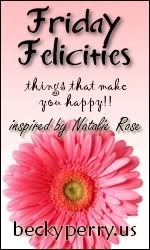 Things that are making me happy...
our warm cozy home
my pink afghan
Girl Scout samoas (I may or may not have already polished off one box ... with help!)
husbands that bring home pizza for dinner
littlest girls that are getting over their cold
letting the girls pick out Valentines for their Daddy, grandparents and friends
not having to cook dinner tonight (see the fourth one above)
brownies
Olympics!!!
a light day of school today after a great week of work by N1
the moms in my girl scout troop ... I got to visit with them for a bit last night and they are some really neat ladies. Looking forward to getting to know them more.
Happy Friday! We are looking forward to watching the opening ceremonies of the Olympics this evening and I'm sure several other events this weekend. The two big girls were set to have separate sleepovers with family tonight and tomorrow, but those plans are shifting as they both starting running fevers today. Hoping they are just coming down with BBoo's cold and, especially hoping that N1 isn't coming down with strep again. This would make it three months in a row. However, I'm thankful that this weekend is light enough that I can hunker down at home with them and love on them.
See you all next week. : )