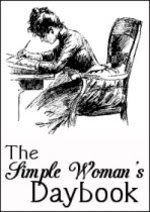 Do visit
Peggy's
to see all the other daybook posts this week!
FOR TODAY

Outside my Window
... dark. I hear cars driving up and down our street.
I am thinking
... that I am very glad that the birthdya weekend is over. :) It was wonderful and fun and much loved by my little five year old, but Mommy is exhausted!
I am thankful for
... my husband taking special care of me this evening. Wisdom teeth were taken our earlier today and he has been very solicitous and bought me fudgesicles. :)
From the kitchen
... please note aforementioned fudgesicle.
I am creating
... a week in the life album. I followed along with Ali's
posts last week
and am excited to see this album develop.
I am going
... to have a quiet week this week. I'm not planning to be incapacitated by this wisdom teeth thing, but I thought it best not to plan too much just in case.
I am wearing
... my jammies and am curled up under the afghan my mom made me for college. My "blankie," the girls call it.
I am reading
...
Gideon the Cutpurse
(a young adult book about timetravel). I just finished Miss Read's
Village School
and am in chapter 2 of 1 Peter for Bible study.
I am hoping
... for some time in this beautiful fall weather this week. We have a family at church that apples available to pick and I want to try and take the girls out there the end of the week if nothing unusual comes up.
I am hearing
... Heroes on the television, and fingers tapping on the laptop.
Around the house
... things are picked up and girls are a-bed.
One of my favorite things
... fall. I'm am loving the cooler weather, the falling leaves, and am looking forward to making some pumpkin treats for the girls this week.
A Few Plans For The Rest Of The Week
... like I mentioned before, not much. N1 has ballet tomorrow and we have Bible study and Awana on Wednesday. Other than that, nothing!
Here is a picture thought I am sharing with you...