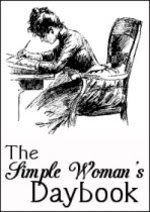 Do visit
Peggy's
to see all the other daybook posts this week!


FOR TODAY
Outside my Window ... cool, windy afternoon. Leaves are blowing. :)

I am thinking ... that Christmas is a little less than two months away! Lists are being made and gifts are being secretly talked about and ordered.

I am thankful for ... a fun family afternoon yesterday. We normally spend Sunday afternoons with family (which is nice), but it was extra-special to get time with just the five of us, out for a drive, in the beautiful Tennessee fall.
In the learning room ... we are going to start reading books and talking about Thanksgiving. I've not done much of that with the girls as of yet, and I'm excited about it. On our Thursday tea this week, we are going to make a thankful tree for our "school room" and add to it over the next month.

From the kitchen ... this is my grocery week this week so I'm making do with what we still have in the pantry for a few more days. Tonight is spaghetti, salad & garlic bread. Nothing too exotic. I do have a new breakfast casserole recipe I need to post here that is WONDERFUL. I had it recently at a baby shower and am looking forward to making it next week when it's my turn to take snacks to Bible study.
I am creating
... a little this and that. I need to make some cards (and if they would actually end up in the mail, so much the better!) I also am contemplating a little scrapbooking this week and thinking about how I want to do my December album this year. (Coincidentally, Ali Edwards has a post up this morning about
her December album
process). :)
I am going ... no where for the rest of the day. We got out this morning and went to the library for a neat homeschool program (and a quick stop at Walmart for milk), but are in for the day.

I am wearing
... long denim skirt, red & pink top, bare feet
I am reading ... several of the Miss Read books right now, and I just picked up more at the library today. Qualify as comfort reading in my book. :)

I am hoping
... to get the house picked up some this week. Not that there isn't a little picking up that goes on every day, but the last two weekends have been extra busy and I'm feeling the need to declutter and reorganize everything. :)
I am hearing ... nothing. Girls are resting. As soon as I finish this post, I'm off to fold laundry.

Around the house ... laundry is on the counters in the kitchen and waiting to finish being folded and put away. The girls' farm and animals are scattered over the floor behind me - a little project for them after rest time today. :)

One of my favorite things ... hearing E say the big girls' names. N1 - who's name (Noelle) is admittedly hard to pronounce for a munchkin - has been deemed "Weeeeeeeellllleeee." Stretch out the word "well" and make it two syllables and you get the idea. N2 (Natalie) has been "Nah-nee" for some time.

A Few Plans For The Rest Of The Week ... mostly regular weekly activities for us - Tuesday ballet, Bible study and Awana on Wednesday. We are making a few plans for Friday night - we are going to have our own little Halloween party at home. Homemade pizza (which is the norm for Friday night, but the girls love it), a special movie that they will FLIP over, and some extra treats to be decided.

Here is a picture thought I am sharing with you... our crazy BetsyBoo. :)