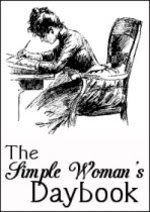 Do visit
Peggy's
to see all the other daybook posts this week!
FOR TODAY

Outside my Window
... the barest hint of frost on our cars and the rooftops. The temperature is 41°. I love cool fall mornings!
I am thinking
... that this was a busy weekend! We had our Fall Festival at church (which T coordinated this year) so he was busy all the live-long day on Friday and Saturday and ALL of us were pooped on Sunday. But the girls had so much fun and it was great event on Saturday - perfect weather and lots of folks there.
I am thankful for
... lessons I am learning. Some fun, some not so fun. All profitable.
From the kitchen
... thinking breakfast burritos for dinner tonight - yum. We haven't had those in a while. Tuesday is dance/crockpot day so I'll be trying this
recipe
. Also in the plans this week,
mini pumpkin pies
for Thursday tea with the girls and probably some mexican food one night.
I am creating
... a clean workspace at my desk. It's taken some time, but I finally (I think) have my desk rearranged to my satisfaction where there is room for my laptop and still lots of space for writing and laying out papers as I scrap or work or plan school. *sigh of relief* Up next, a cleaning plan for our home!
I am going
... to have a quiet week this week, but I think I say that every week with some hope. :) One of us has something every day this week with the exception of Friday, but most of those commitments are not mine so my goal will be keeping things here running steady as others run hither and yon.
I am wearing
... Land's end nightgown that I have had far too long. Super comfy. :)
I am reading
...
The Time Thief
, 2nd in a series by Linda Buckley-Archer. I thoroughly enjoyed the
first book
in the series, and this one just happened to be at the library when I ran by to pick up a hold so I felt I *needed* to take it so I could find out what happened! :)
I am hoping
... for a safe arrival of a few babies this week. I am eagerly anticipating news that they are here. (Both are arriving by c-section, one on Tuesday & one on Wednesday!)
I am hearing
... little girls chattering and eating a bit of dry cereal. (Trying to hold them off breakfast until N1 awakes so that I'm not making breakfast several times this morning).
Around the house
... Signs of fall are popping up - our jack o' lantern has been carved and we are enjoying lighting it in the evenings. Tis the season to stock up on yummy candle scents (my favorite time of the year for all the fall flavors!) Last night we burned a mulled cider one and the house smelled wonderful.
One of my favorite things
... a clean fridge. I took our fridge apart on Saturday and it looks so good now. A project that I had definitely been avoiding for sometime - and actually, not because there was anything growing in there. I just needed to unload all the shelves and get in there and do a serious wipe down and clean of all the glass and drawers. A tricky job with my three assistants, but it looks so much better and more organized!
A Few Plans For The Rest Of The Week
... This coming weekend is our church's annual missions conference so Saturday night is a pot-luck dinner and special services on Sunday. I want to take N1 (well, all the girls) out to find a few big leaves this week and try and do leaf rubbings. Also thinking about some plans for Thanksgiving - school-ish things - as far as talking about thankfulness.
Here is a picture thought I am sharing with you...