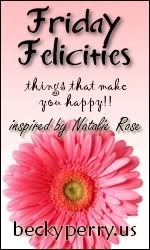 Things that are making me happy this week ...
the county fair
the flexibility of homeschooling
my diet coke :)
blog posts that may not seem out of the ordinary to some, but totally encourage me
Friday night pizza and movie nights ... I know I say this every week but it is so simple and we ALL look forward to just hanging together. Tonight's feature film presentation: Mary Poppins! (Sometimes I feel sorry for T with all these girls. :) Last week, we let him pick and watch what the girls call "the Daddy movie" ... points to anyone that can guess what Disney flick that might be!)
notes that N1 leaves me everywhere .... they usually say something like "Mom I love you and I lick [like] you and your pretty" and "when can we go to the zoo?"
gmail chats with the niece
a God that is there and present and knows my frustrations ... helping me along sometimes when I don't even know why I am frustrated
videos my husband makes of our girls ... this is a music video he put together of our night at the fair. Enjoy and enjoy your Friday!