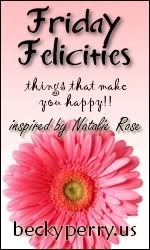 Happy Friday!
My happy list for this morning:
dinner with good friends tonight

a good week of school this week

a pediatrician's office that I love and that loves us (and yes, we made a trip there yesterday for my middle girl)

thinking and planning for a little girl's sixth birthday ... pretty sure it will involve something along

these lines

(although these are much cheaper at Target) :)

time to sit this weekend and plan for the week ahead

a second cup of coffee, which I will be getting right now!
Link up at Becky's!