Just popping on to say the doctor visit went good yesterday! I didn't even have to have my blood drawn . . . they are going to wait and do that at my 13 week appointment next month when we also get to hear the heartbeat. All looks good, thank you Lord! I'm measuring a little larger than normal (and poking out and showing some already), but Noelle was such a big baby, my Dr. didn't seem that surprised by it. (Secretly, deep down, and not admiting to anyone but YOU - I would LUUUUUUURVE me some twins!) :-) Did some preliminary review of my chart from the last pregnancy. I had had to have a c-section with Noelle because the Dr. was worried I wouldn't be able to deliver her (9 lb. 11 oz.) and she was worried my pelvic bones weren't turned right or something. Anyway, it looks like (as of now) that she is okay with me trying a VBAC. Of course, she went into the risks and some of the precautions we'll have to take, but I'm just encouraged that there's a good chance I'll get to actually get to experience going in to labor, water breaking, etc. I had seriously high blood pressure and borderline toxemia when I delivered last time, so those factors will all have to be taken into consideration, too.
We also talked a bunch about diet. I tested high on my blood sugar before and, we already know about the size of baby #1 . . . I am really going to consciously work toward eating GOOD this pregnancy. That said, I'm starving at the moment and dinner isn't for another 1/2 hour or so! :-) So to tide me over until supper, some pictures of my
delicious
girl. :-)
Noelle and the puppies in the sprinkler getting soaked!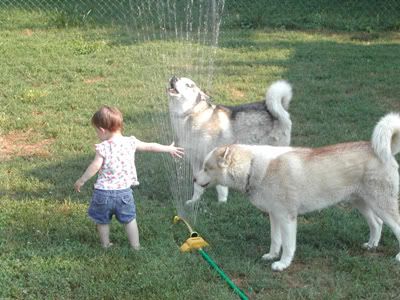 Noelle and her friends. :-)