That's me. Trying to get a grip on what's going on. My schedule needs some serious straightening - not really 'cause I'm missing anything, but more because I feel like I'm just barely getting things done around here. Not the way I like to operate at all. Right now, we've been thrown out of whack due to Noelle's "swimming lessons." I put swimming lessons in quotes because they are not so much for her as they are for me - how to help her swim and learn how to kick and breathe underwater. It's been a half hour every morning this week (except tomorrow - Friday) and then next Monday through Thursday as well. Even though it's a half hour lesson, the getting there and back eats up our morning so that when we get home, it's time to eat lunch and get ready for a nap. Then I try and get a few housekeeping and work projects done while she naps, instead of resting myself, so that when she wakes up, I'm ready to crash. And I do, as soon as I sit down in the evening. :-) Anyway, hoping to get a bit of organizing done tomorrow and approach next week . . . the next several weeks actually . . . a little better. On our family schedule and "to do" list:
Arrange a time to go to traffic court . . . remember my ticket from a few weeks ago? Well, court was this morning and because I have nothing on my record, I get to go to 4 hours of driving school. I have to get it taken care of before July 7 and I want to just go and get it over with. A neat praise so our insurance doesn't go up!

This weekend is our church picnic. I'm meeting two of the young single guys from church at Sam's on Saturday morning to buy the picnic supplies so they can haul them down to our picnic area for me. Major *bursts of love* for these two guys! I learned the hard way that my car is too small to pick up all the supplies in and these truck-drivin' guys are helping me out. :-)

Make a side dish for said picnic. Hmmm, what to make?

Need to bake bread.

Next week:

Sunday we celebrate Travis' birthday! Woo-hoo! We're having a birthday lunch at my parents consisting of steaks, some kind of rice dish (and I can't remember what else, but it all sounded good!) Then I think we're going to go swimming in the pool at my folks' condo. I would post on here what Noelle got her Daddy for her birthday, but just in case he checks in I'll save it. :-)

Next week is week 2 of swimming lessons for me and Noelle. Monday also has us going to back to the Dr. for a 2nd check on Noelle's ear infection of a month ago that we are STILL trying to clear up.

The end of that week I will be working on wedding announcements for a girl that is getting married next Friday in Florida - she wants to use a picture from the wedding on the announcement so I'll be getting a picture emailed to me and then spending the rest of the weekend assembling. It will be busy, but the $$$ I will make will be worth it.

Week of June 19th

Celebrate Father's Day on Sunday . . . thankfully, we have gotten Noelle's goodie for Travis' and I've gotten something for my Dad so that can be checked off the list.

My 1st OBGYN appointment is the 22nd . . . Lord willing, we'll have a good report on the baby to share! :-) That evening, birthday party for a friend's soon to be 4 yr. old.

This is also our church's 5 Day Club week - this is the first time in a couple years that I haven't helped out with it, but I had to say no to something.

Also packing and preparing for our family vacation which is the last week in June! We leave Saturday to go to Travis' family reunion in Ohio and spend some time with his family.

Week of June 26

In Ohio!

I don't think I've shared yet the plans that Travis has made for our anniversary, either. :-) We have a frequent flyer ticket that we wanted to try and use as a family before Noelle turns 2 and we have to buy her a plane ticket. So, for our anniversary (Aug. 3), we are going to fly to Washington D.C. for about 5 days just hanging as a family there! Travis has done some research online and apparently all the Smithsonian museum, including the National Zoo, are free to get into! Woo-hoo! We're going to fly into Baltimore and take the train into D.C. - not bothering to get a rental car, but will take the train and subway to get around. I'm hoping we'll get to see my cousin (also a Travis) while there - he works for the government and my Travis has never met him, and I've never met his wife or girls. One of those rare opportunities to connect. Anyway, if you have any comments or suggestions on traveling in D.C., send them my way! I'd love to hear them.

Well, enough catching up and rambling for now . . . I'll close with a couple pictures. :-)

My tomato plants are getting huge & my lettuce is going crazy! :-)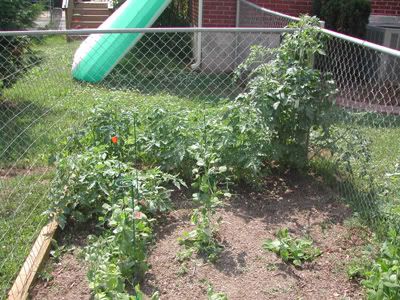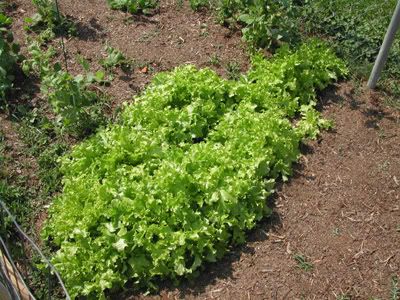 Noelle in her $3 wading pool from Wal-mart...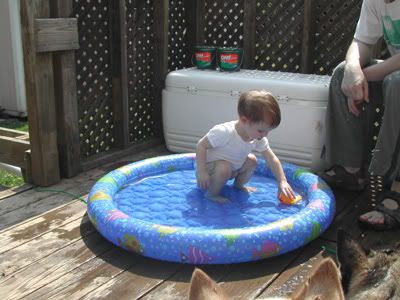 ---

Addendum to this post:
How could I forget?! Just to say that Lexie pointed out that my book list can in no way be complete with out the wonderful words of L.M. Montgomery added to it. How could I list my favorite books and not include the Anne of Green Gables series? And now that I'm thinking of it - Mitford!