Honor Your Husband - Week 4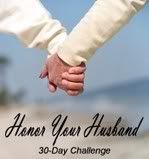 Lately I've been working on something ... getting up for some quiet time in the morning before the rest of the house is awake. I set my watch alarm and the coffee maker for 6:00 a.m. and when they go off, I creep out of bed - trying my best not to disturb the baby in the moses basket next to our bed, or the girls in the room next door. I make a cup of coffee, adding whatever new flavor of cream that I'm trying out, and come out to my desk in our family room. I lay my Bible open across the desk and try and figure out where I left off yesterday. How handy my little
read-through-the-Bible-in-a-year bookmarks
are. : )

This is hard for me. I've struggled for years with setting aside time to read my Bible and study ... there are more "exciting" things to read, or I want to have the "perfect time" - no disturbances, hot coffee, maybe a cute coffee shop where I can journal and be uninterrupted by children for a couple hours.

That's not my reality. : ) And that's okay. However, putting off time invested in my relationship with the Lord is only going to be more and more detrimental in the long run. Whether I get a whole hour alone in the morning, or I end up reading my Bible while feeding my 10 week old, I just need to do it.

Now, why am I writing about this when this is supposed to be my Honor Your Husband post for the week? This is something that I've been thinking on for a couple of weeks now ... how can I be the best wife for my husband, one who puts God first and serves her family out of that relationship if it's only a casual Sunday-morning relationship at best? I am honoring my husband by making time with God a new focus and priority. It is changing my attitude and my heart about serving my husband - when I submit my sinful self to the Lord, I'm seeing a difference in how I choose to submit to my husband (and with what kind of attitude). : )
Head over to Christine's at
Fruit in Season
for more HYH posts and encouragement.