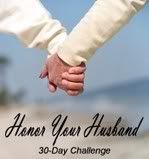 I'm late this week on posting my update for the
Honor Your Husband challenge
hosted by Christine @
Fruit in Season
. Life is in full swing here - complete with ant issues (ick!), girls that won't nap, and laundry like you wouldn't believe. That, and I've been wrestling what to post for this week's update! It seemed that once I posted my thoughts on contentment
last week
, I immediately began a battle that I struggled with all. week. long. Rebellious and contentious thoughts. Anger. Frustration. You name it. Both at life in general and toward that certain someone. Not so much in the success department.
However (and isn't God funny this way?), this morning I picked up my Bible to read a chapter in Philippians before my girls got up. I've read these verses before, but they JUMPED off the page at me this morning:
Not that I speak from want for I have learned to be content in whatever
circumstances I am. I know how to get along with humble means, and I also
know how to live in prosperity; in any and every circumstance I have learned
the secret of being filled and going hungry, both of having abundance and
suffering need. I can do all things through Him who strengthens
me.

And my God shall supply all your needs according to His riches
in glory in Christ Jesus.

Philippians 4.11-13, 19

Timely, eh? More to work on in this area, most definitely.
My goals last week were:
to continue to think before I speak.
something practical ... remember to fill the coffee pot and set the timer EVERY NIGHT for a week so that I'm not doing it in the morning and there is hot coffee ready for Travis to take to work.

(Yeah on this one!)

have a good attitude this week as I have a lot of evening kid duty by myself this week. Travis and our oldest are doing VBS this week, and so I'll have the two littles all by myself every evening and then a hyper/exhausted/filthy 3.5 year old to wind down when they get home.

(Did pretty good on this one...)

read my Created to Be His Helpmeet book and study verses on contentment. (Um, not so good here ... but then again, I haven't read much of anything in the last week so it's not that I put it aside for something entertaining. Will work on this this week.)
And my new challenge (just adding one):
Work on improving my mind (and memory) so that I can have intelligent conversations with my husband.
I hope I'm not the only one who struggles with this one. I feel like I spend so much of my time immersed in diapers, bottles and the like, that when my husband asks me a question about how his Sunday School lesson for the youth went, I can't even remember what he talked about ... and I was sitting there the whole time! I need to be better about (1) paying attention and also (2) stretching my mind and growing in other areas besides that of playmate and chief diaper changer. Please hear me, not that those areas aren't important, but they so are, but as a wife, I think part of my responsibility is to also be an intelligent conversationalist with my husband and right now I'm not. :-) I want him to come to me when he has big thoughts to think and discuss and not find better conversation opportunities elsewhere. Know what I mean?
For more on this, visit Christine (our gracious host) at Fruit in Season.