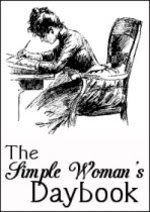 Do visit
Peggy's
to see all the other daybook posts this week!
FOR TODAY

Outside my Window
... the munchkins are in the backyard playing with chalk and it is HOT!
I am thinking
... I'm glad we have our morning errand out of the way. (Quick run to Target for a birthday present for one of N2's friends.)
I am thankful for
... cabinets full of groceries and a husband that goes shopping on Saturday with me - makes for a MUCH easier trip.
From the kitchen
... leftover BBQ, corn pudding and no-bake strawberry cheesecake from yesterday's family lunch. Yum! Also, lots of fresh fruit since we just went grocery shopping - bananas, watermelon and blackberries!
I am creating
... a poster on the seasons for N1's pre-K. We are going to have a summer theme this week in what we do and read about.
I am going
... to make sure to take a quick rest this afternoon. Late night + early morning combo today.
I am wearing
... denim capris and a blue shirt
I am reading
...
No Other Gods
by Kelly Minter. I am VERY excited about this book/study.
I am hoping
... for a wonderful (kid-free) anniversary weekend with Travis in a few weeks. We're still working out the details. :)
I am hearing
... E & N2 wrestle and giggle.
Around the house
... I'm working on our school area some today. I bought two maps at Target in their dollar section - a world map and a USA map. For $1, I'm not going to feel bad about poking holes into them and marking them up over the next year and we learn. Want to do some restraightening of the shelves this week and clean off our bulletin board.
One of my favorite things
... Dunkin' Donuts coffee. I was able to buy a small bag of it this weekend and I think it is going to be my Monday morning coffee until it's gone so I can make it last longer. Definitely my favorite brand (as are their donuts!)
A Few Plans For The Rest Of The Week
... kind of crazy this week. Tuesday: we'll run our errands for this week by taking care of renewing tags for both cars, hopefully eat lunch with Grandma and Aunt Kathy, and get N1 registered for next year's ballet. Wednesday through Friday: cousins Jordan and Bubby are here for the rest of the week since their sitter is going out of town. I'm sure I'll be up to my eyeballs making chocolate chip cookies, peanut butter sandwiches in bulk, and I'm thinking about a trip to the zoo on Friday with everyone. Then, I will collapse on Saturday. :)
Here is a picture thought I am sharing with you...