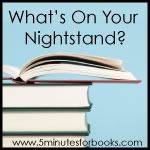 This month, I'm taking part in a new book lover's carnival over at
Five Minutes for Books
. I love the idea of peeking in to everyone's current pile o' pages and I fear that my Amazon wish list will suffer from all the book suggestions! :)
My current pile ... which doesn't actually reside on my nightstand, but on the side table in our family room ... is above. I'm currently reading
Along Came a Cowboy
which was sent to me for review. The first few chapters had me questioning whether this was going to have enough "meat" to make it worth my time, but the characters are winning me over. Apparently this is also the 2nd book in a series, but I haven't found myself lost even though I haven't read
book #1
.
House of Wolves
is also a review book that I hope to get to shortly - I've not read anything by the author so I have no idea what to expect on this one!
I'm currently using
No Other Gods
by Kelly Minter as my summer Bible study. So far, I've been more than challenged to look for different idols that I've put up in my life instead of the true God. (Not to mention this book comes with some seriously delicious recipes in it. I'm going to try out the Butterfinger cake and will report back!)
The last two books are ones that I haven't started yet, but are ones I want to get to soon!
For the Children's Sake
is one that has been recommended to me over and over - I've only heard good things about this one! And
Five Little Peppers and How They Grew
is one that I want to read/preview as a possible read-aloud book with my girls down the road. I don't think they are quite ready for it yet (it's a pretty big book), but that doesn't mean I can't enjoy it more than once. *wink* :)
If you want to play along, head over to
Five Minutes for Books
and post your nightstand reading list! I'm planning to be back next month!