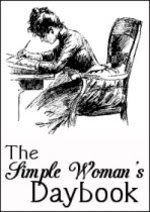 Do visit
Peggy's
to see all the other daybook posts this week!
FOR TODAY

Outside my Window
...
cloudy with a chance of meatballs
. No. Wait. That's the library book I read about 1/2 a dozen times last week! :) It is cloudy though. I think we're supposed to get rain several days this week.
I am thinking
... about helping with a baby shower for a friend. I *love* baby showers.
I am thankful for
... Weekends. My husband. Morning coffee. Little girls that are sleeping through the night *almost* EVERY night!
From the kitchen
... a low-key week in the kitchen.
Dana
is coming to lunch tomorrow and I think the plan is to have something fun like black beans and rice and then to adorn it with yummy goodness like avocados, bell peppers and such. (I'm hoping for lots of leftovers from this for the rest of the week!)
I am creating
... some wish lists of homeschool stuff I want to get for the girls. I am eye-ing some manipulatives from My Father's World (
these
and
these
), and I want to get the next books in
Explode the Code
for Noelle (she is almost done with the first three pre-K/K books!).
I am going
... to run errands with the munchkins (all 5). I survived, but ... I asked my husband to run by Sam's on the way home for what I didn't get. I was so done.
I am wearing
... denim skirt and white t-shirt.
I am reading
...
No Other Gods
by Kelly Minter. On week 2 and am still VERY excited about this book/study. I've also started the first Miss Julia book by Ann B. Ross -
Miss Julia Speaks her Mind
.
I am hoping
... for a looooong nap time today. :)
I am hearing
... my niece play on the girls' computer ... her rest time.
Around the house
... I need to pick up toys that are scattered on the floor. It's not bad, but I need to get moving. There is also laundry to be out of the dryer momentarily. Can you tell my rest time is almost up? :)
One of my favorite things
... I had forgotten how much I enjoy little Hello Kitty things (and how much they remind me of being a little girl) until I saw
this post
at Margaret's. We have a girlie-girl turning five in just a couple of months and I'm thinking some Hello Kitty goodies might be in order.
A Few Plans For The Rest Of The Week
... I mentioned that
Dana
is coming for lunch tomorrow, along with her girls. :) If Wednesday isn't rainy or unbearably hot, then the Shepherd Day Camp is going to the zoo. Then Thursday, when it's back to just us and our regular routine (of sorts), we are diving head first into Potty Boot Camp. N2 is Very! Excited! About! Our! Own! Dora! Underwear! over here!
Here is a picture thought I am sharing with you...