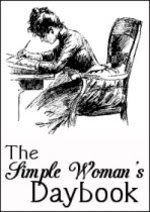 Do visit
Peggy's
to see all the other daybook posts this week!
FOR TODAY

Outside my Window
... it's quiet, a few cars are going up and down the street as folks head in to the office after a long weekend.
I am thinking
... it is good to be home! :)
I am thankful for
... safe travels, good memories with our family, and watermelon!
From the kitchen
... not much as I did a really good job cleaning out the fridge before we left town. Travis did a quick run to the store for me last night so I now have eggs for breakfast and milk, but we will need a plan and a grocery list for after that.
I am creating
... some scrapbook pages for a new
Shimelle
class that starts today. Hopefully more on this soon... :)
I am going
... to enjoy being home today, do LOTS of laundry, and decide whether or not a grocery trip is a must for today.
I am wearing
... sleep pants and a big t-shirt
I am reading
... a
series of books
by Karen Kingsbury that a friend loaned me, quick and fun reads for vacation. I also finished
Mission of Motherhood
by Sally Clarkson and it was excellent. I know this is a resource that I will be returning to over and over for encouragement and reminders.
I am hoping
... that E and I are not catching a cold. We both came home somewhat stuffy.
I am hearing
... E puttering around behind me and N1 watching
Between the Lions
. N2 is still snoozing.
Around the house
... it looks pretty good thanks to a quick clean before we went out of town. Now, to keep it up. :)
One of my favorite things
... the screened-in porch at the cottage we stay at on Lake Erie. On our last morning there, I was able to sneak out of our room before everyone woke and had about 30 minutes out there with the sunrise and my journal. *sigh* A highlight of vacation for me.
A Few Plans For The Rest Of The Week
... I believe I've mentioned laundry and groceries, right? That's top priority. After that ... Wednesday night I will be going to my church's summer women's study on Proverbs and Friday, as far as I know, I get to go out to dinner with a few girlfriends. (I didn't realize I had so much *mommy* time this week, but since Travis is getting to go on a guy trip with my Dad and brother-in-law in a few weeks, I think I'll take while I can!)
Here is a picture thought I am sharing with you...