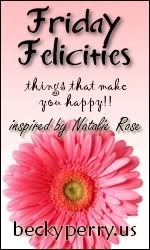 Things that are making me happy this week ...
hot showers for me and warm baths for littles (a reminder that to me that isn't a given for everyone)
coffee with a shot of eggnog in it
losing 10 lbs in spite of said coffee with eggnog (!)
good rest times for the girls as they have been hard to come by of late (a certain two year old is thinking about dropping her nap, but not if I can help it) :)
60* degree days in January
brownies and ice cream and Fridays and weekends all rolled into one!
For more Felicities, see Becky's blog!
Friday Felicities is a meme created by Nattie – now a resident of heaven. This meme is all about creating a list of things that make you happy and Nattie knew that when you concentrate on your blessings your sorrows are not as overwhelming.