Grump E. Pants
That's me today. Was it Midas who was the king where everything he touched turns to gold? I've decided that today I'm the queen where everything I touch turns to grumpiness.
I'm not fired up about my new haircut.

I can't get the house cool enough.

I can't get the printer to work.

I can't get Noelle to go down for a nap.

I can't find the tights I want at Target.

Ad nauseum.
Okay, I'm done. I just needed to get that out of my system. Part of my problem is I'm tired. I'm a "10 o'clock" bedtime person and last night
someone
*coughnoellecough* was up to 11:30 p.m. fussing and all off scheduled because of the cold that's working on her. And today has not been a day where I've had the extra space in my schedule for a nap. I have our first Christmas rehearsal tonight with the music team and I've been running trying to get ready.
Methinks I need a list of things I "heart" to change my perspective. (Idea shamefully stolen from
Heather
).
I heart Chex Mix (and I bought some tonight for our music rehearsal!)
I heart putting up the Christmas tree (it's happening this weekend, people!)
I heart this little man.
I heart designing cards and stationary for folks . . . my
latest
.
I heart new scrapbook magazines that come in the mail.
I heart
White Christmas
.
I heart this big man.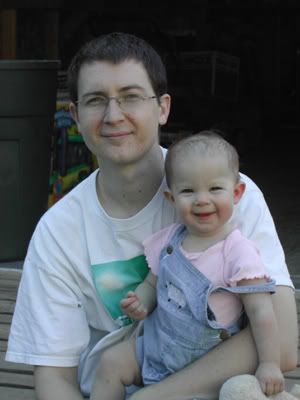 Noelle is sleeping . . . shhhhhh . . .