Home Again, Home Again
We have returned. It is so good to be home again! :-)
A brief recap . . . we went to
Rock Island State Park
with my side of the family for a Thanksgiving get-away.
Some bullet point memories of the trip:
~ lots of UNO card games.
~ my brother-in-law is very funny when playing games
~ fabulous hike to see some waterfalls and time outdoors with Noelle.
~ making cinnamon rolls with my niece for breakfast on Saturday
~ taking a nap with Noelle
~ stopping at
TWO
Sonics on the way to the state park
~ the brilliantly, sunny, cold drive home
You can see more pics from our trip by clicking the picture here: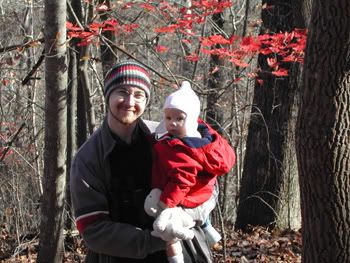 But, I was ready to be home again. Right now, laundry is drying, dinner is in the crockpot, and I'm working on getting this week organized. I also realized I didn't finish my
Swonderings
from last week . . . so here goes 4-7:
4) Student Teaching . . . I'm probably one of the few people in the world that will admit they loved their student teaching experience, but I did. When I was able to convey an idea or a concept to 6th graders and they
understood
it . . . it was a wonderful feeling.
5) Yellowstone on my Honeymoon . . . this was probably the best vacation that I have ever had. Travis and I drove to Yellowstone from TN the morning after our wedding - approximately 30 hours in the car to get there and it was so much fun. We read to each other (more like I read to him while he drove) the first three books of the Chronicles of Narnia. No phone, TV, computer for over a week - we hiked and explored and read and
RELAXED
.
6) Time with my niece . . . she thinks that I'm cool, and I think that that is remarkable. :-)
7) Any time that I am in the Word . . . and I understand. God is so good to me to allow me to catch glimpses of His holiness in Scripture. And there are those moments when the veil is lifted and I get a glimpse of His Glory. As Emily in
Emily of New Moon
might call it, the
flash
- just a glimpse of something so perfect you can hardly bear to look on its beauty.