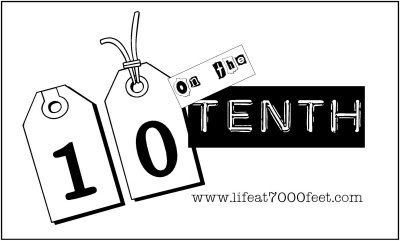 We have had a week of sickies here (still a couple of us left) so not a lot has been accomplished this week! Well, I take that back ... N1 and I did school. She and I also had her first Girl Scout Daisy meeting, although that involved some scrambling as we were supposed to host it and couldn't because of the germs. We did get out yesterday and run a few errands, unbeknownst to us that girl #3 was coming down with the bug.
All that to say! :) This list is what I would like to try and get done on this cool cloudy Saturday while taking care of my littlest munchkin and blowing my nose every two minutes.
1.
Make cinnamon rolls for my girls
. Our Saturday morning tradition, whether sick or well.
2.
Clean the bathroom
. It just needs to be done today!
3.
Make a going away card for Mr. Bob
. Mr. Bob is an older gentleman who has been part of our church family for many years. He is moving next weekend to a retirement facility in Florida and our church is very sad to see him go. Tomorrow is his last Sunday with us. Mr. Bob and his wife were missionaries for many years in Korea and his knowledge of Scripture is so inspiring and encouraging. We will miss him muchly.
4.
Work on my Christmas notebook
. Yes, it's time. Every year I debate whether it should be a separate little notebook or something as part of my everyday listy journal that put a hodge-podge of everything else it. Today I will decide and move. forward. :) As a Christmas side-note, I would love to buy
this
for my nephew for Christmas. How cool is that?! May have to forward that idea to the grandparents...
5.
Think happy thoughts
. This may sound random, but today a bunch of my friends (including my BFF) are at the Living Proof/Beth Moore conference in Memphis. I realllllllly wanted to go, but because of many reasons I couldn't and I'm a little bummed to be missing it. Especially after a week of sickness, it sounds even more fun.
6.
Pack
! Why, you ask? Well, as part of N1's birthday (unbeknownest to her) we are taking her, her cousin Bubby, and the girls to the Memphis Zoo very, very soon! (There will be pics next week, I'm sure). I am very excited - the Memphis Zoo has PANDAS! and PENGUINS! and their
new exhibit
opens this weekend featuring GRIZZLY BEARS!
7.
Fold the bulletins
. Nothing glamorous here. :) Every Saturday night I fold the bulletins for church on Sunday. One of the perks of being in a small church - we don't outsource these jobs! However, for the most part I don't mind. It's about 30 minutes after the girls go to bed where I can sit and listen to something on my iPod or veg.
8.
Plan a time to watch Anne of Green Gables
. It's Fall and I'm feeling the need for some time in Avonlea. That movie,
Sense and Sensibility
,
Runaway Bride
, and
You've Got Mail
are my fall movies that I seem to gravitate too this time of year.
9.
Celebrate my nephew's birthday
. Today is his "friend" party for his birthday - kind of a SpongeBob/Star Wars cross-over theme. Not something we normally pick around here. :)
10.
Rest
. And with that my list is done. I am going to try and rest a bit today so this cold doesn't beat me and I can enjoy the weekend (and more) with my family.
Hope you all have a great one! If you have any lists of 10 laying around that you are dying to post, head over to
Mer's
and link up!