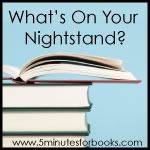 There are so many things on my nightstand right now, it's not even funny! (Well, to me ... maybe a little). :) I have been doing a good bit of reading lately and found some new treasures.
The Melendy Quartet by Elizabeth Enright. These are stories revolving around 4 children: Rush, Mona, Randy & Oliver and of course they get into all sorts of adventures. :) I've read the first book, The Saturdays, and loved it. The Saturdays is about the adventures that the children have on Saturdays - they come up with the idea to pool their allowance money so that they can take turns doing something that they REALLY want to do on their Saturday. One goes to a concert, another goes to a museum, and, of course, adventures happen. These books were written in the early 40's so the children have more freedom (i.e., able to do these things without parental supervision) that children today wouldn't have. Right now, I'm reading The Four-Story Mistake and already enjoying it. These books really are wonderful and I am going to look forward to adding them to my library for my girls.
I've also been reading a few of the Percy Jackson and the Olympian series (previewing them for possible gift-giving to my niece). I reviewed book one a few weeks ago here, and just finished book 2, The Sea of Monsters. I think these are ones that I am going to recommend passing on. In my Bible study last week (we are studying Isaiah), we read and discussed Isaiah 57:3-4:

But you, draw near, sons of the sorceress, offspring of the sdulterer and the loose woman. Whom are you mocking? Against whom do you open your mouth wide and stick out your tongue? Are you not children of transgression, the offspring of deceit..."

As soon as we started talking about these verses, I thought of this series. Every character in this series, EVERY ONE, is a product of immorality (a Greek god or goddess and a human/mortal). It is just so casually there in the story that it didn't even dawn on me at first. As I mentioned in my review, we will study the Greek gods and their stories as they intertwine with history some day, but to read about them as if they are flesh and blood and how they so casually "stick out their tongue" at the things of the Lord ... I'm not sure that I want to hand those over to my children so casually.
So ... :) N1 and I have also been reading Tumtum and Nutmeg as our chapter read-aloud the last few weeks and have loved it! I'll (hopefully) blog this one more as part of Hope is the Word's Read Aloud Thursdays, but safe to say, this would be a great one to pick up for a young reader this Christmas!!
Lastly, I am reading The Gift of an Ordinary Day by Katrina Kennison. I'm only about two chapters into this non-fiction book, but I have a feeling I will be copying several (many) quotes from this one into my journal. All about simplicity (a theme I always seem to gravitate to), enjoying the ordinary day and choosing to slow down and enjoy it. Not letting these daily moments that I usually take for granted and rush through them without noticing them at all.
Previous Nightstands posts, if you still need more ideas of what to read: