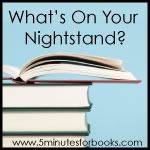 The dilemna of all dilemnas. What to put in my book bag for our little Thanksgiving journey.
Almost
more important that what type of clothing to bring (and definitely more pondered than clothing!) :) We're only going to be gone for a few days, and I do have three little munchkins to keep up with, feed and entertain, but I'm going to be optimistic and put together a rather impressive stack for my bag. We'll see what all gets tackled!
Girl of the Limberlost
- one that I have wanted to read for years, literally. I finally managed to remember to request it at the library. I've been told (from those who's opinion in books I respect) that
Gene Stratton Porter
is one of those authors I need to collect. So this is my first foray into her writing.
A Tale of Despereaux
- with the movie coming out in a few weeks, I wanted to read this first. My friend
Dana
has given this book glowing recommendations and as I have a weakness for YA literature, a double bonus.
Keeping a Nature Journal
- I keep checking this out of the library over and over again, and there is hope that I might finish it this time. I want to incorporate more of the outdoors in my school-time with N1 and as I am perfectly happy being an inside person (see above posted stack of books), I've been recommended this book as well.
Dickens
... I want to read A Christmas Carol this year. This may not make it on the trip for sheer size! :)
Faces in the Crowd
- a book review book that I'm trying to get into. But up against these other choices, I'm afraid it might not get much time on our trip. :)
Seasons of a Mother's Heart
- current parenting/encouragement book that I'm slowly working through.
Sally Clarkson
= excellent so definitely going in the bag.
Real Learning
- current homeschool book (and a re-read). It's just packed with good. stuff.