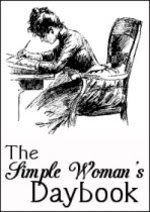 Do visit 
Peggy's
 to see all the other daybook posts this week!


FOR TODAY
Outside my Window ... Dark and chilly. It was 29*when I got up this morning and I'm wondering if we'll have another freeze tonight.

I am thinking ... that I get so much more done during the day when I make a list and stick to it. 

I am thankful for ... our home. Yes, it is full. And, yes, it's not always in order. But we are snug as a bug here, surrounded by photos and favorite (worn) books, and clothes to cover us. We are truly blessed.

In the learning room ... more Thanksgiving books and resources this week, although our focus will be more towards the turkey and less about the history/pilgrim aspect of it. Tomorrow we're going to make a tukey to countdown Thanksgiving (found this idea from Candace @ His Mercy is New). I also want to make a thermometor to hang on the wall and talk with N1 about temperature and different articles of clothing that we wear at different temperatures. :) (Not that we have discussions AT ALL about why we can't wear our summer dresses anymore, or anything like that! I wonder if this is the same for other mothers of daughters throughout the years, hmmm?) :)

From the kitchen ... Well, today's cooking is over but it did include french toast sticks for breakfast and yummy bean burritos for dinner. Tomorrow will be something in the crockpot since it's our dance class day. I also want to make more cranberry bread this week.

I am creating
 ... my
Stories in Hand
album. 
I am going ... to have a quiet week this week. I am! I am! :) Really, there's not much going on other than the usual run to dance, Bible study, Awana. A trip to the library is also in order. 

I am wearing
 ... grey yoga pants and long-sleeved black t-shirt.
I am reading ... my first Dickens. I'm going to start with A Christmas Carol, I think. I've been enjoying all the Miss Read books, but am now ready for something new. I am enjoying reading less contemporary fiction right now. (Although I did pick up one of my FAVORITES - SAHM I Am the other night. This book makes me laugh).

I am hoping
 ... for a friend's burdens to be lessened. That there was more that I could do...
I am hearing ...  the TV, the clicking of the laptop keys. 

Around the house ... it looks pretty good. Four loads of laundry today - washed, folded AND put away, thankyouverymuch. :) Kitchen floor swept and mopped. Tomorrow I have a date with the bathroom.

One of my favorite things ... the smell of clean babies. I'll be honest - bathtime sometimes falls of my radar by the end of the day. I'm tired, girls are tired, and it gets pushed back. But clean sweet-smelling babies are sooooo nice. One of the best smells ever.

A Few Plans For The Rest Of The Week ... a little scrapbooking, a little time reading (with & to girls and for self), a little time dreaming and planning about Christmas, etc. :)

Here is a picture thought I am sharing with you ...