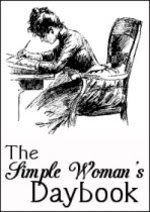 Do visit 
Peggy's
 to see all the other daybook posts this week!


FOR TODAY
Outside my Window ... slowly lightening up outside, but very chilly. The bus just stopped at the corner for the kids heading to school.

I am thinking ... "whatever is true, honorable, excellent, right, pure, lovely, of good repute, and worthy of praise ... think on these things." I wish I did that more...

I am thankful for ... Mondays. My day to refocus, do laundry, and generally be home all day and plan out the week.

In the learning room ... wrapping up our Thanksgiving books and crafts this week. I want to get all of our T'day books returned to the library next week and make my list of those that I want to reserve for Christmas. 

From the kitchen ... thinking that a big batch of chicken noodle soup is in order one of these days. It is soup weather outside. I also need to gather my lists and ingredients of what I am making for Thanksgiving and get that organized.

I am creating
 ... two scrapbook pages last week - yea! :) Also, I'm putting together little notecard sets and notepad sets for a women's Christmas party at church. 
I am going ... to have a quiet relaxing day today. Filled with snuggling, reading aloud, and hot tea.

I am wearing
 ... grey yoga pants & a grey t-shirt. Sleeping attire.
I am reading ... Finishing up @ Home for the Holidays. Yes, I said that I was going to start A Christmas Carol, but I haven't yet. I picked up this fun book and was trapped. :) Also, I've been reading This is the Feast with my girls - a new review book that arrived late last week. (Look for a detailed post on it tomorrow).

I am hoping
 ... for cold weather all week long!
I am hearing ...  silence. Everyone is still sleeping!

Around the house ... Laundry, laundry everywhere. I try not to do laundry on the weekend and we seem to have gone through an extra amount of clothes in the last two days. 

One of my favorite things ... holiday peppermint creamer. Yum.

A Few Plans For The Rest Of The Week ... my Bible study for this fall wraps up on Wednesday. The time has sure flown by with this study (1 Peter). Normal kid-sized activites of dance and Awana. There is a church-wide bonfire planned on Saturday night that I would like to go to with the family, but we'll have to wait and see on the temperature and such. 

Here is a picture thought I am sharing with you ... 

One of my all time favorites ... and I think if you are a mom of girls, you might be required to own this movie! Do you have a favorite girl movie that you are looking forward to sharing with your girls/kids? (Star Wars is, of course, on my list as well, but not for a few more years!) :)