What's On My Nightstand ::: May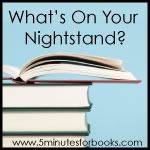 June ... is going to be my month to step back. To relax amidst much busy-ness. To read a few things that have been sitting on my shelf for a while that I am *going* to get to! :) With that, here are some of my aspirations for the month:
I'm guessing I will read more than those four books this month, but those are the ones that I really want to hit, along with personal Bible reading (thinking I'm going to dive into some of the Psalms this summer, and maybe one of the epistles ... I John?? 1 Peter??) I just finished Inkdeath, the third book in Cornelia Funke's Inkheart trilogy and that took me a good week and a half to get through. One, because I have had busy days and only read in the evenings after girls were in bed ... and two, a-hem, in spite of how good it was, I had a hard time staying awake. :) I'm also about 1/3 of the way through Everyone is Beautiful which is the 5M4B June bookclub selection.
Head over to Five Minutes for Books for more nightstand posts!