Kids' Picks :: Things That Are Most in This World & That's Good! That's Bad!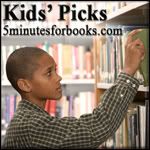 This week for Kids' Pick I pulled two books off the shelf that have gotten much love at our house since they showed up Christmas morning. Both my N's love them (ages 5 and 3).
That's Good! That's Bad!
tells the tale of a little boy's trip to the zoo with his Dad and Mom. However, due to an unfortunate (or fortunate) series of events he gets separated from his parents and goes on a little journey through the jungle. As he encounters the different animals, what a child might think is a bad thing ... such as accidentally grabbing a giant vine only to find out that it was a long snake ... turns out to be good, not bad. I found out that there are sequels to this book:
That's Good! That's Bad! in Washington D.C.
and
That's Good! That's Bad in the Grand Canyon
(however, neither show up on Amazon.)
A clever book with silly drawing that is sure to be enjoyed by your preschooler or early elementary aged child. :) As a side note, I also found this
neat parent resource
for some fun learning activities to go along with this book.
Things That are Most in the World
is another fun book that we discovered. Written by the author of
Cloudy with a Chance of Meatballs
and it's sequel,
Pickles to Pittsburgh
, this book shows the silly side of the "-est" ending to words. What is the quietest thing in the world? Why, a worm chewing on peanut butter! The stickiest? A 400,000-pound wad of bubble gum. With clever illustrations to showcase these "-est" extremes, my girls giggle their way through this book everytime they read it.
For more Kids' Picks, head over to
Five Minutes for Books
!
Other Kids' Pick posts I have written:
~
The Story of Little Babaji
~
Books by James Mayhew
~
Betsy-Tacy
~
Each Peach Pear Plum
~
The Great Blueness and Other Predicaments